Over 25 years ago my father showed me a handwritten Deakin family tree entitled Deakin of Cofton Hackett, Worcestershire and some of his forbears, my paternal grandmother's family. (Later I received the original typed version.) It went back to Gilbert Talbot, Sheriff of Worcestershire and Anne Paston from Norfolk. It indicated they were descended from King Edward III. The document was more than 50 years old. I was fascinated and bitten by the genealogy bug.
I would like to dedicate this site to my Great Great Aunt Alice Gertrude Deakin (1862 – 1946), known as Aunt Gert to the family and to Great Aunt Ethel Marguerite Deakin (1876-1956). The family tree mentioned above was a result of their work. Aunt Gert knew a number of the family members listed in the tree. She collected photographs, silhouettes, documents, and family objects such as jewelry. Aunt Gert wrote notes including names and dates to give these items meaning.  She circulated some of the pictures and passed on the objects with their stories to interested family members. Many of the pictures and documents are on this website. Copies of the Deakin Family Tree were passed on to my grandmother, my father, one of my father's cousins and a third cousin of mine. As a result, a number of family members interested in genealogy now have copies.
Aunt Gert was a member of the Association of Descendants of Knights of the Garter (founded 1932), as was her niece Ethel Deakin.  I am told they were quite proud of this fact. I actually have an original receipt from the Association for Great Aunt Ethel dated 6 October 1933 for 7 shillings and 6 pence, which I presume is her subscription fee. I also have a yellowed reprint from the 23 April 1933 Sunday Times entitled St. George's Day Pageantry at Windsor, which describes a ceremony at St George's Chapel, Windsor Castle involving the Association. It indicates their goal is to subscribe "to the task of caring for the cloisters and precincts of the shrine to their forefathers' vows."
I never meet GG Aunt Gert or G Aunt Ethel but I am indebted to them for their efforts. Now a Cautionary Tale, although they passed on much information about family members to others, I know very little about them!  I have no pictures of Aunt Ethel and know very little about her time spent in Kenya. I was able to get 2 pictures of Aunt Gert, one from a newspaper photo of her being in a funeral procession and the other a young girl, and very little about her life. I wonder how many other family genealogists have done the same. Now for a plea to family members, if you have information, a story, or photos about a family member and would like them included please send them to me. I can include them in my records.
I would also like to mention my ancestors in general. I am constantly amazed, surprised and interested to learn about their varied occupations, their making history real as they lived it, the sacrifices they made, the difficulties they overcame, their courage to attempt something different and also their successes.
Deakin of Cofton Hackett, Worcestershire and Some of His Forbears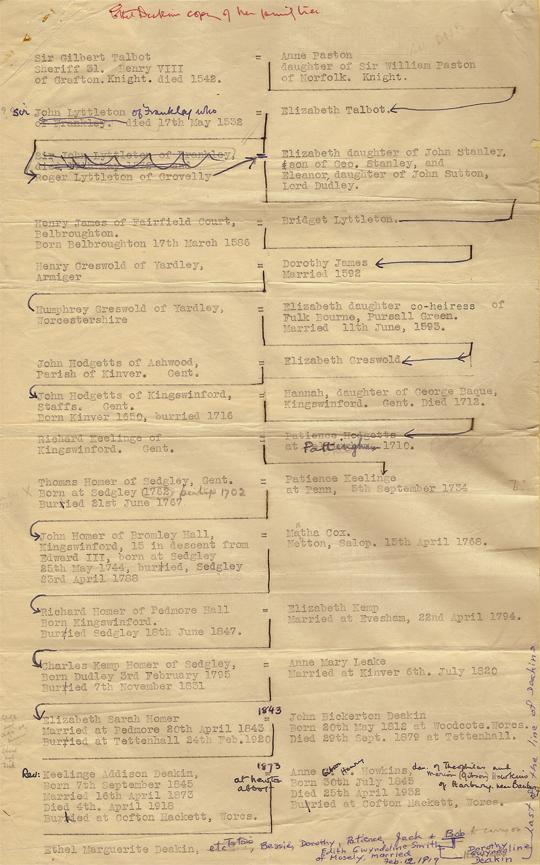 Original Receipt