Birth
3 Feb 1795, Hill House, Dudley, Worcestershire, England6
Death
31 Oct 1857, Townsend, Sedgley, Staffordshire, England6
Burial
7 Nov 1857, Sedgley, Staffordshire, England6
Baptism
20 Feb 1795, Parish Church At Dudley, Worcestershire, England6
Spouses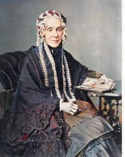 1
Anne Mary LEAKE


, GGG Grandmother
Birth
29 Dec 1793, Tavistock, Devon6
Baptism
16 May 1794, Ottery St. Mary, Devon, England
Death
3 Jan 1872, Sedgley, Staffordshire, England6
Burial
10 Jan 1872, Sedgley, Staffordshire, England6
Marriage
6 Jul 1820, Ottery St. Mary, Devon, England
Marriage
22 Jun 1819, Claines, Worcestershire
Notes for Charles Kemp HOMER
of "The Heath" Stourbridge, Worcestershire and Townsend House, Sedgley, Staffordshire, England.
Owned Bag End Farm, Manor Farm, Quarry Farm all in the parish of Dormston.

Only son in his father's will.


England Select Births and Christenings
Charles Kemp Homer born February 3, 1795, baptism December 20, 1797 at Saint Thomas, Dudley Worcestershire, parents Richard and Elizabeth Homer.

December 10, 1816 Richard Homer of Segley, Stafford, Gentleman one of the Attorneys of His Majesty's Court of King's Bench and Charles Homer agree, Charles Homer will become clerk to Thomas Loxdale of Shrewsbury, esquire, one of the Attorneys of His Majesty's Court of Common Pleas and one of the Solicitors of the High Court of Chancery for a period of 5 years.

Lewis's Directory of Worcestershire 1820
Stourbridge
Charles Homer, Solicitor, Church Row.

History, Gazetteer & Directory of Staffordshire, 1834
Homer Chas. solicitor Sedgley

Listed in the Pigot & Co. Commercial Directory 1835
GENTRY AND CLERGY.
Homer Mr. Chas.(Attorney) Sedgley

In the 1841 census listed as living on High Street, Sedgley,
Charles Homer, age 45, attorney,
with Anne Homer age 45,
Richard Homer age 15,
Lucy Leake age 40
and 2 servants.

In the 1851 census listed as living at Townsend House, High Street, Sedgley.
Charles Kemp Homer age 56, Landed proprietor, born at Dudley.
Wife Ann Mary age 56 born at Devonshire.
Son Charles Henry age 27, glass manufacturer, born at Stourbridge, Staffordshire.
Son Thomas Keeling, unmarried age 24, born at Wolverhampton.
They had 3 servants a cook, housemaid and a footboy.

listed in the White's Directory of Staffordshire 1851
Homer, Charles, Solicitor

from Sedgley Sundries by Edward Naylor
1857, November 3rd.
On October 31st at Sedgley, very suddenly, in his 63rd year Charles Kemp Homer, eldest son of the late Richard Homer, Esq. of Pedmore Hall, Worcestershire.

England Select Deaths and Burials
Charles Kemp Homer buried November 7, 1857, Sedgley, Staffordshire.

Listed in the 1857 October to December Death Index Charles Kemp Homer, Dudley volume 6c. page 46
Notes for Anne Mary (Spouse 1)
England Select Births and Christenings
Ann Mary Lake, born December 29, 1793, christened May 16, 1794, Ottery Saint Mary, Devon, parents Henry Lake and Sarah

In the 1861 census Thorn Hill, Handsworth, Staffordshire.
Head Martha S. Lecke [or Leeke or Leake] unmarried, age 64, Gentlewoman, born Tiverton Devon.
Sister Lucy Lecke, unmarried, age 60, Gentlewoman, born Tiverton Devon.
Sister Ann M. Homer, Widow, age 66, Gentlewoman, born St. Mary Ottney, Devon.

In the 1871 census 50 Dudley Road, Sedgley, Staffordshire.
Head Ann M. Homer, Widow, age 77, Annuitant, born Ottery St Mary, Devon.
2 servants.

Will dated August 2, 1867 proved at Lichfield January 29, 1872

Listed in the 1872 January to March Death Index as Ann Mary Homer age 78, Dudley volume 6c page 37

National Probate Calendar
24 January 1872 The Will of Ann Mary Homer late of Sedgley in the County of Stafford Widow who died 3 Janaury 1872 at Sedgley was proved at Lichfield by Thomas Keelinge Homer of Quatt near Bridgenorth in the County of Salop Gentleman and Frederick Augustus Homer of Sedgley Gentleman the Sons two of the Executors. Effects under 600 pounds.

Townsend House was the home of Charles Kemp Homer and Anne Mary Leake. This picture was taken in 1907.

From Sedgley Local History Society

The 1881 Census shows Edward Nayler living at the family home "Townsend House" which many of us remember, and whose stone front garden wall still stands along Wolverhampton Road from the north corner of Townsend Avenue.

Also From Sedgley Local History Society

The Coseley ironworks failed before the First World War and the family homes, Townsend House and Turls Hill House, no longer stand.
Notes for Sarah (Spouse 2)
1st wife

Second daughter of Richard Mee of the Blanquette? near Worcester.

The IGI lists Sarah Mee christening May 5, 1798, Kingwinsford, Father Richard Mee, mother Margaret.

The IGI lists a marriage Charles Homer and Sarah Mee, June 22, 1819, Claines, Worcester