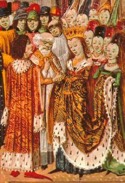 Birth
25 Apr 1284, Caernarvon Castle, Wales
Death
21 Sep 1327, Berkeley Castle, Gloucestershire
Burial
Gloucester Cathedral
Spouses
1
Isabella Of France

, 21G Grandmother
Birth
abt 1292, Paris, France
Death
22 Aug 1358, Castle Rising, Norfolk, England
Burial
Grey Friars Church, Newgate, London, England
Marriage
25 Jan 1308, Boulogne Cathedral, France
Notes for Edward II King Of England
Reigned 1307-1327 deposed and murdered. 1st Prince of Wales. His reign was troubled by extravagances, his militarist disasters in Scotland notably at Bannockburn (1314) and unpopularity of his favourite Piers Gaveston who died in 1312 and Hugh le Despencer 1262-1326. He was deposed on 21 Jan 1327, and murdered by a red-hot poker in his bowels. Invested as the first English Prince of Wales in 1301.
Internet Sources
Wikipedia
http://en.wikipedia.org/wiki/Edward_II_of_England
Notes for Isabella Of France (Spouse 1)
Known as the She-Wolf of France.
Known for her beauty, diplomatic skills and intelligence.
After her husband showed his interest more with his 'Favourites" Piers Galveston and the Despensers, she had an affair with Roger Mortimer. The two agreed to depose Edward and remove the Dispenser family. Their mercenary army defeated Edward. He died prison. Isabella and Mortimer rules as regents for 4 years until her young son King Edward III took control. The new King had Roger Mortimer executed.
She was descended from Gytha of Wessex through King Andrew II of Hungary and thus brought the bloodline of the last Saxon King of England, Harold Godwinson, back into the English Royal family.
Internet Sources
Wikipedia
http://en.wikipedia.org/wiki/Isabella_of_France