Birth
29 May 1813, Portsea, Hampshire, England
Baptism
20 Jul 1813, Portsea, Hampshire, England
Burial
5 May 1874, Norwood Cemetery, Lambeth, Surrey
Spouses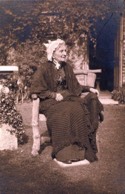 Birth
5 Mar 1826, Emsworth, Hampshire, England
Death
28 Nov 1931, Emsworth, Hampshire, England
Marriage
15 Mar 1848, Emsworth, Havant, Hampshire
Notes for Charles Bonnycastle JEWELL
Birth date and christening date from Bonnycastle genealogy
http://genealogy.kolthammer.org/Bonnycastle-o/p13272.htm
There is a
Charles Bonnycastle (or Donnycastle) Jewell
listed in the GRO marriage index in March 1848 for Havant volume 7 page 159 on the same page as
Jane Anne King
.
From Tiffany Gallaher
Residence 37 Nicholas Lane, London listed in unrelated documentation in the London Gazette. His brother William Henry Jewell also lives at this address.
The following are taken from the Gallaher/King/Jewell/Beyer at ancestry.co.uk by Tiffany Gallaher. They show he had a remarkable career.18 August 1840
Central Criminal Court, London, England
Went to trial for the charge of using his authority as chief mate to order a black man to flog a member of the crew for insolence to the third mate. Found guilty and fined 20s.
London Magnet
Central Criminal Court
Monday - The court resumed its sittings on Monday before the Right Hon. the Lord Mayor, the Recorder, Mr. Sergeant Arabin, the Sheriffs, Under Sheriffs, Mr. Alderman Pirie, Mr. Alderman Copeland, &c. The trials were of no public interest.
Tuesday - Assault on the High Seas
Charles Bonnycastle Jewell
surrendered to take his trial upon a charge of assaulting William Gibson, on the high seas, within the jurisdiction of the Admiralty of England, on the 6th of June last. William Gibson sworn: I am the prosecutor of this indictment. I was three years in the royal navy, and I have since been engaged in the merchant service. I was employed on board the Lady Flora, East Indiaman, in June last. On the 6th of that month we were on our way home from Madras and I was at the helm. A gentleman came up and spoke to me, and at that time the third mate told me to mind the helm, and struck me on the arm. I told him I was attending to the helm, and requested him not to strike me.
I was about three hours that day at the helm and when I left it I went below to supper. When at supper, a message came to me that the chief officer (the defendant) wished to see me. When I went to the poop-ladder, I saw the defendant standing with the captain. On seeing me, the defendant came down the ladder and said, "Come this way." I followed him to the leeway and he made Serang, a black man, flog me, I asked what it was for and he told me that it was for insolence to the third mate. My back was not naked; I had a duck frock on. I was flogged with a rope's end. (The rope's end was here produced.)
I received eighteen lashes and was hurt. Jewell remained while I was flogged, and when I received the eighteen lashes, he ordered Serang to stop and said to me, "It is not the flogging but the disgrace. Think yourself d-d well black fellow flogged."
I told him that on our arrival in London I should go to Mr. Ballantine at the Thames Police-office and make a complaint against him. It is not usual for a black man to flog the sailors. No other man was flogged on board during the voyage, but one person was tied up for that purpose and afterwards pardoned. John Seaton (Serang) stated that he was on board the Lady Flora, East Indiaman, during the voyage from Madras to England. On the 6th of June he was called upon to flog the prosecutor, William Gibson. Jewell told him to do so with a rope's end. He did not know what Gibson was flogged for. Eighteen lashes were given him, and Jewel then ordered witness to stop. Nothing was said to Gibson in witness's presence. Gibson left them together.
Mr. Jones: Did the prosecutor do anything improper before he was flogged? Witness: After he was flogged, he laughed, and said, "When I go to London -." He said nothing more. The Jury, after consulting together for about ten minutes, returned a verdict, finding the defendant guilty of assault. The defendant was ordered to pay a fine 20s and to be imprisoned until that sum was paid.
1840 Lady Flora, East Indiaman
Chief Mate on the Lady Flora East Indiaman, a ship of the British Merchant Navy which travelled back and forth between Great Britain and Madras. Among the cargo on July 1840 was a large male elephant, named Prince Albert and donated to the Regents Park Zoo
Tuesday morning, a vast concourse of persons assembled at the West India Dock entrance to Blackwell, to witness the landing of a large male elephant from the Lady Flora East Indiaman, Captain Scott, from Calcutta. The elephant was a present to her Majesty, but there being no royal menagerie in existence, the Queen has presented it to the Zoological Society, and the animal, which appeared to be in excellent health, was conveyed last night to the Zoological Gardens in the Regent's-Park. A Lascar keeper accompanied the elephant, which is extremely docile, He was a great favourite with the ship's crew, and Captain Scott states that his behaviour throughout the voyage was in general most exemplary, though occasionally, like other great characters, he displayed a little irritability of temper. When the elephant was landed on the quay he manifested his delight by loud noises, galloping about, and playing many curious tricks, to the great amusement of the spectators. He has been named Prince Albert by his keeper.
4 February 1845
Departed from Cuddalore, Madras With Lady Flora Cuddalore, Madras, India
"Departures: Feb 1. Lady Flora, Jewell, Cuddalore - 4" - Allan's Indian Mail & Register of Intelligence for British & Foreign India, China & All Parts of the East, Vol. 2, Issue 21, 1845
28 February 1845
Departed London Aboard the Lady Flora London, England "Departures: Feb 28. Lady Flora, Jewell, London" - Allen's Indian Mail, 1845
9 July 1845
Arrived in Madras Aboard the Lady Flora Madras, India "Arrivals: July 9. Lady Flora, Jewell, Madras" - Allen's Indian Mail, 1845
10 July 1845
Arrived at Gravesend from Madras on Board the Lady Flora Gravesend, Kent, England "Arrived at Gravesend, 11th July...Lady Flora, Jewell, from Madras" - The Spectator
30 October 1846
Departed from the Downs for Aden Aboard the Ocean Queen
The Downs, Surrey, England "Departures: From the Downs - Ocean Queen, Jewell, Aden. October 30" - Allen's Indian Mail, 1846
20 November 1846
Weathered a Gale on the Ocean Queen Bound For Aden England, United Kingdom "The ship Ocean Queen, Captain Jewell, of London, with 1,000 tons of coal for Aden, in the Red Sea, had 10 feet of water in her hold. All hands, including the captain, at the pumps for 48 consecutive hours" - Hants Tel., 28 Nov 1846
30 December 1847
Journeyed from Plymouth to Aden on the Ocean Que
en
Celtic Sea, near Brest, France "Vessels Spoken With: Ocean Queen, Jewell. Plymouth to Aden, Dec 30, Lat 48 deg N.; Long 8 deg W [Off the coast of Brest, France in the Celtic Sea]" - Allen's Indian Mail & Register of Intelligence
1 September 1850
Left Gravesend for Suez as Captain of the Ocean Queen Gravesend, Kent, England The vessel was chartered by the P&O Company to supply their depot at Suez with coals. Of historical significance, on its way out, the ship picked up the ill-fated Patagonian Mission Party, to be dropped off at Tierra del Fuego. [I believe Captain jewell ship the Ocean Queen was not involved with the Patagonian Mission, but was another vessel named the Ocean Queen with Henry Cooper, Master. This other ship left Liverpool on September 7th 1850 and was bound for California. This vessel arrived on December 5th and stayed until December 19. It would seem highly improbable the Jewell's ship would head for California, catch fire 2 days later and some of the crew would be picked up of the coast of Madagascar!]
21 December 1850
Ocean Queen on Fire, Abandoned, Jewell Rescued in Boat Off the east coast of Madagascar (lat 23 S, long 52 30 E) "On the 21st Dec, the vessel was discovered to be on fire, the coals having ignited in the main hold, when the crew left the ship on the evening of the 21st in 4 boats. The boats parted company in the night and had not been heard of since" Lon St., 1st Apr
The French ship, Jacques Gabriel, 292 tons, commander Pion, had arrived in Table Bay, and reported that in lat. 23 S, long. 52 30 E, she picked up part of the crew of the Ocean Queen, 737 tons, Captain Jewell, which left London on the 1st of September, bound to Suez. 
On the 21st of December the vessel was discovered to be on fire, the coals having ignited in the main hold, when the crew left the ship on the evening of the 21st, in four boats; Captain G.B. Jewell, second mate, carpenter and 10 seamen and boys in two boats; chief officer and 14 able seamen in the long-boat and cutter. The boats parted company during the night, and had not been heard of since. 
The names of the crew on board the Jacques Gabriel were Captain Jewell and second mate, J.F. Hawkins, J. Sweetenham and son (carpenter), G. Ethesley (sailmaker), G. Edwards (steward), James Rice (cook), W. Marlin, G. Francisco, W. Cook, W. Joyce, W. Miller, John Antum, John Leadlets (seamen).
18 September 1851
Arrived in Moulmein, Burma Aboard the Protector Moulmein, Burma "Arrivals: Sept. 18 - Protector, Jewell, Maulmein" - Allen's Indian Mail, 1851
29 Aug 1853
London Received Master and Mates Certificate for 25 years employed as App Mate and Master in the British Merchant Service, primarily in Coasting? and Foreign Trade. Estimated Age: 40. He is referred to as "Captain" in his daughter's birth announcement the same year
Great Britain masters and mates Certificates
Number 42358
Charles Bonnycastle Jewell
, born Portsmouth, Hampshire, on May 29, 1813 has been employed in the capacities of App Mate and master 25 years in the British Merchant Service in Country and Foreign Trade. Dated London August 29, 1853
12 October 1853
Wreck of the Santipore Folkestone, Kent, England His ship Santipore, bound for Hobart Town in Tasmania with goods for the colonies, was wrecked on the rocks off Folkestone, owing to bad weather. All on board were saved but there was a great financial loss.
WRECK OF THE SANTIPORE
Folkestone, Oct. 12.
This port has been the scene of much excitement during the last few days in consequence of the wreck of the Santipore, a fine ship of 650 tons, the property of Messrs. Gilmore and Company, of George-yard, bound for Hobart Town, which, after losing her rudder on the reef known as the Church Rocks, near this place, came broadside on to the beach, and is now lying "high and dry," at ebb tide, within 150 yards of the Pavilion Hotel, and close to the harbour terminus of the South Eastern Railway.
The Santipore left the London Docks on the 26th ultimo, with nine first class passengers, and a cargo valued at 50,000l., and after encountering the full force of the prevalent south-westerly gales, against which she drove some distance below Dungeness, her commander, Captain Jewell, ran back into the Downs. On Monday, the 3rd instant, the weather having moderated, another attempt was made to run down channel and on Tuesday evening the ship was within six miles of Dungeness, in mid-channel. As night drew on, the weather became very thick and hazy, with occasional heavy rain, during which it was impossible to verify, with any degree of certainty, the ship's position. A strong south-westerly gale sprang up at the same time, rendering it impossible to carry more than the storm sails.
About midnight, the tide set strongly on to the English coast, and the current and wind together baffled all the attempts of the captain to keep headway on the ship. There was no apprehension, however, of the vessel's dangerous proximity to the coast, until within five minutes before she struck. The thick weather and the darkness of the night prevented the land being sighted until half-past five o'clock, when the ship was within a cable's length of the dangerous reef before mentioned. An attempt to wear her off was made, but proved ineffectual. She struck heavily, and remained fixed on the rocks, rolling fearfully with every sea.
The captain had not had his clothes off for four days and nights, and the crew were in a state of great exhaustion, but there was no lack of energy even at this dreadful moment. An order to furl the sails, given by the captain, was gallantly responded to by half a dozen of the crew, although the masts were swinging to and fro with the elasticity of horsewhips.
The catastrophe was observed by an officer of the coast-guard, who immediately ran into Folkestone and gave an alarm. Several boats soon put off to render assistance, and 40 or 50 boatmen were in the vicinity of the wreck in a very short time: The first care of the captain was to save the lives of his passengers, and they were sent ashore in charge of one of his officers. Captain Jewell then called the boatmen together, and informed them that he was fully aware of the dangerous position in which his ship was placed but that he did not intend to give up her command, nor should he leave her while two planks held together. He added that, if 20 of those present chose to lend him assistance at the pumps, he would accept their services and pay them, but under no other circumstances would he allow them to act. The required number of men responded to the captain's invitation, and consented to work under his command.
Telegraph messages were at once despatched to Dover and Ramsgate for steam-tugs, and Capt. Hathorn, navel superintendent of Folkestone harbor, who was early on the spot, ordered the Princess Mary, one of the South-Eastern and Continental Steam-packet Company's fleet, to proceed to the spot, and render what assistance she could. Nothing could be done, except to keep the pumps going until the tide flowed.
During the morning, the ship was an object of intense interest to many thousands of spectators assembled on the beach between Folkestone and Sandgate. The force with which she struck on the rocks, and afterwards rolled to and fro, would have broken up any vessel of less substantial frame; but the Santipore, being a teak ship, of Calcutta build, and only five years old, maintained her first-letter character admirably, and held together long after old and experienced sailors imagined she would have been dashed to pieces.
At noon, a Dover tug-boat bore down to the spot, and, with the Princess Mary, endeavoured to make fast a warp to the vessel's bows. In consequence of the gale and the dangerous reef upon which the ship was lying, it was a long time before this could be accomplished. The Princess Mary first succeeded in making fast, and at flood tide, all the men being kept hard at the pumps, the Santipore floated, and came off the reef into deep water, with loss of rudder and false keel, and ten feet water in her hold.
Captain Goodburn, of the Princess Mary, immediately put on all steam, and made for the harbor, distant not more than half a mile. Unfortunately, although the warp was a new one, the service it was required to perform was too severe, and at the first strain it snapped. The ship was now again at the mercy of the wind and waves, without rudder or a stitch of sail set, and within a few hundred yards of the beach.
At this moment the Merry Andrew, tug-boat, arrived from Ramsgate, and her captain, having dexterously backed astern under the bows of the Santipore, succeeded in getting a warp on board. It was, however, too late. Before he could get the full strain on to his boat, the ship, drifting rapidly inwards, scraped the ground, and directly afterwards stranded upon her broadside on the spot above indicated, heeling over to the seaboard with a tremendous list, threatening the momentary destruction of the vessel. Captain Jewell instantly gave orders to cut away the masts, each of which fell in rapid succession, and the ship, being thus cleared of her top weight, lay comparatively quiet on the beach.
Capt. Hathorn had been watching the wreck from early morning, and he now directed all the spare labourers in the company's service to assist the coast-guard in protecting the ship. A great deal of anxiety now prevailed as to what was best to be done, and it was only through the presence of Mr. C.M. Soutter, representative of the underwriters in London, who had been sent down on telegraphic intelligence of the wreck being received, that anything could safely be determined upon. Mr. Soutter was on the spot when the ship came ashore, and after consulting with Capt. Hathorn, and satisfying himself of the impossibility of floating the ship in her present state, he at once directed that the cargo should be removed.
About 200 labourers, and all the carts in the port, have been since engaged in this work. The goods are first hauled up out of the hold, then lowered into carts, and conveyed above high water mark, where they are deposited, previously to being transmitted to London. The labour is vastly increased owing to the position of the ship, which, resting on a very steep beach, has a great list towards the sea, the deck being at an angle of about 75 degrees. The cargo consists of a general assortment of goods for the colonies, including a large quantity of silks and cotton goods, ready-made clothing, boots, shoes, spirits, beers, wines, some iron, a quantity of malt and oats, and some sawn deals for building purposes.
The ship has 12 feet water in her hold at every flood tied and the work of unloading necessarily only proceeds at low water. The ship is underwritten for 8,000l.; and the cargo, it is said, will involve a loss of about 30,000l. to the Royal Exchange and London Assurance Corporations. Capt. Jewell is an old experienced officer. The catastrophe is not attributed to any want of skill on his part, but rather to the terrible weather which has prevailed during the past fortnight. His crew consisted of nearly 20, all of whom are said to have behaved with great gallantry. Among the passengers was a Mr. Webb of Sydney, who was on his return to the colony. He had property on board valued at 4,000l., not one farthing of which is insured.
1861 Census
. Portsea, Hampshire, sub district Portsea Island.
Jane Jewell, head, age 76 born Portsea at 30 Stamshaw Lane civil parish Portsea, Hampshire, registration district Portsea Island, sub district Kingston.
Elizabeth C. Dormer, daughter, age 54, Officer's widow, born Portsea.
Charles B. Jewell
, married, age 47, master mariner, born Portsea
.

Grandson Donald G. McBean?, age 7 scholar, born Camberwell, Surrey.
1 servant..

7 February 1865
Trustee for William Balchin, Ship Owner. Bankruptcy Case. London, England William Balchin, ship owner, ship and insurance broker and general merchant. Trustees Joshua Prowse...and Charles Bonnycastle Jewell, gentleman, Nicholas Lane. (10,972)
14th August 1865
A
Charles Bonnycastle Jewell
was a witness in Old Bailey Proceedings.
1866
Living at 4A Walbrook, London likely with his brother William Henry Jewell.
1871 census
civil parish St. Mary Newington, ecclesiastical parish, All Souls London, registration district St Saviour Southwark, sub district St Peter Walworth at 7 Brunswick Terrace
Charles B. Jewell
, boarder, married, age 57, retired master mariner, born Portsea Hants.
end of quotes from Tiffany Gallaher
Listed in the April to June 1874 death index, St Saviour Road,
Charles Bonnycastle S[J]ewell.
[The J must have been mistaken as an S by the typist.] St. Saviour Southwark, Surrey, volume 1d, page 72.
Parish records South Metropolitan Cemetery, Norwood Cemetery, Norwood Road, Lambeth, Surrey.
May 5 1874 burial
Charles Bonnycastle Jewell
35 Cooks Road Kensington, age 60 years
Notes for Jane Anne (Spouse 1)
There is a Jane Anne King Christened 22 Feb 1828 in Warblington, Hampshire, England. Mother Jane, father John King.

In the 1841 census listed
Jane King as Lumber Merchant, with
John age 15,
Jane age 15, Joseph age 13,
George age 10,
William age 3
and 2 servants.
Living on King Street.

In the Jan - Feb 1848 marriage index Charles Bonnycastle [or Donnycastle] Jewell on the same page as Jane Anne King.

England Select Marriages
Marriage March 15, 1848 Charles Bonnycastle Jewell and Jane Anne King at Emsworth, Southampton, England.

In the 1851 Census King Street, Emsworth, Warblington.
Jane King, head, widow, age 55, Timber and Coal merchant, born Sidlesham Sussex.
Daughter in law Jane Ann Jewell, married, age 25, mariner's wife, born Emsworth.
Grandson Albert Charles Jewell, age 2 born Emsworth.
Granddaughter Victoria Jane Jewell age 3 months, born Emsworth. 2 servants.

In the 1861 census registration district Havant living on King Street,
Jane A. Jewell head of the household and married age 35, born Emsworth.
Daughter Ellen Jewell age 7, born Emsworth.
Son Walter H. Jewell, age 4, born Emsworth.
Cousin Luisa E. Bourne, age 15, born Churchsea?, Surrey.

In the 1871 census Warblington civil parish, St James ecclesiastical parish, Emsworth registration district Havant living on King Street.
Jane A Jewell, head, married, age 45, Schoolmistress, born Emsworth Hants.
Daughter Ellen Jewell, age 17 scholar, born Emsworth.
Daughter Florence Jewell. age 9, scholar, born Emsworth.
Cousin Elizabeth Annclorabbe?, unmarried, age 60, dividends, Edinburgh Scotland.
Marie Desfroges, visitor, unmarried, age 22, teacher, born France. Elizabeth Kendall age 19, servant born Emsworth.

from the History, gazetteer, and directory of Hampshire and the Isle of Wight
Jewell Mrs Jane Ann, ladies day school, King Street. [note also listed on King Street are Mrs Jane King and William King, timber and coal merchant and miller, Steam Saw, and Flour Mills]

The school was at 5 & 7 King Street, Emsworth, Hampshire.

In the 1881 census King Street
Janetime Jewell , a widow aged 55, was a school mistress and head of the household.
Her daughter Ellen was assistant mistress.
Her granddaughter Fanny D. Saxby aged 5 and grandson Herbert K. Saxby aged 3 also were residents.
The grandchildren were both born at Lewes, Sussex.
Some of the boarders, teachers were from Hamburgh, Germany and Leon, France.

from Our schools and colleges: being complete compendium etc. by Frederich Shirley Dumaresq de Carteret Bisson, 1884
EMSWORTH (Hants), EMSWORTH SCHOOL. The course of instruction at this school, established in 1863, comprises of the usual English subjects, with Latin, French, German, Italian, Mathematics, and the accomplishments; Calisthenics form a part of the daily routine. Pupils are prepared for the Oxford and Cambridge, Local and Higher, the College of Preceptors, South Kensington, and the Christian Evidence Society Examinations. The number of boarders is limited to 12, and day scholars to 20. Fees for the former are 50 guineas per annum, and for the latter 10 to 20 guineas. The extras are Latin, German, Mathematics, Dancing and Singing. The year is divided into 3 terms. Principal, Mrs. Jewell, assisted by her daughters, resident Parisian, German, and Music Governesses.

In the 1891 census King Street.
Head Jane A. Jewell, age 65, widow, School Mistress, born Emsworth.
Daughter Ellen Jewell, single, age 35. teacher, born Emsworth.
Daughter Florence Jewell, single. age 29, born Emsworth.
Fanny Sholbrand, single, age 18, teacher, born Germany.
Pupil, Florence J. Scott, age 15 born Leicester, Leicestershire.
Pupil Katherine A. Auchiuty?, age 17, born Bristol Somerset.
Pupil Monica Fituchunty?, age 15, born Ascot Oxford.
Pupil Alice R. Auchunty?, age 13 born Oxford.
Pupil Sibyl Bovin, age 15, born Chertsy Surrey.
Pupil Mary Dean, age 15, born Chichester Sussex.
2 servants.

In the 1901 census 5 & 7 King Street (School).
Head Jane Anne Jewell, Widow, age 75, Schoolmistress, own account, born Emsworth.
Daughter Ellen Jewell, single, age 47, school mistress, own account, born Emsworth.
Daughter Florence Jewell, age 39, single, own account, born Emsworth.
Boarder Ida Hetty Mabury Charles, age 16, born Fulham London.
Boarder Gwaldys Mary Wilson, age 16, born Galway Ireland.
Boarder Dorothy Emily Deakin, age 15, born Cofton Worcester.
Boarder Marion Francis Charles, age 13, born Harting, Sussex.
Boarder Margaret Patience Deakin, age 13, born Cofton.
Boarder Doris Charles, age 11, born Bosham Sussex.
2 servants.

In the 1911 census 7 and 5 King Street, Emsworth, Warblington, Hampshire
Jane Anne Jewell, head, age 85, widow, 5 children born alive, 3 still living, living on private means, born Emsworth Hampshire.
Daughter Ellen Jewell, age 57, single, living on private means, born Emsworth Hampshire.
Daughter Florence Jewell, age 49 living on private means, born Emsworth Hampshire.
Servant Elizabeth Emily Whelan, age 23, single, born Eastney, Portsmouth.
There are 18 rooms in the dwelling. [I presume this is both 5 and 7 King Street.]

In the October to December 1931 death index Jane A. Jewell, age 105, Havant, Hampshire, volume 2b, page 564.

National Probate Calendar
Jane Anne Jewell of 5 and 5a King-street Emsworth Hampshire died 28 November 1931 at King-street Probate London 26 April 1932 to Ellen Jewell and Florence Jewell spinsters. Effects 3913 pounds 12 shillings 10 pence.

The following are taken from the Gallaher/King/Jewell/Beyer at ancestry.co.uk by Tiffany Gallaher.

Christening 22 February 1828 • Emsworth, Warblington, Hampshire, England At the time of her birth/christening her father had recently converted half of his family's shipyard to a timber yard and was also working as an auctioneer.

Marriage 15 Mar 1848 • Emsworth, Southampton, England "Married - At Emsworth, C.B. Jewell, Esq., to Jane Anne, dau., the late John King, Esq." - Salisbury & Winchester Journal, 1 April 1848

Residence 1851 • 129 King Street, Emsworth, Hampshire, England Age: 25; Living with mother, who is a lumber and coal merchant. Husband is a master mariner and is not at home. Clearly his job keeps him away for long periods.

Residence 1861 • 129 King Street, Emsworth, Hampshire, England Age: 35; She is a married woman with two young children and a servant. Children were all born between 1850 and 61 and husband is never at home in the census but is shown staying with his mother or brother.

Moved to New House in King Street About 1864 • 5 & 7 King Street, Emsworth, Hampshire, England When giving testimony in court re a sewage dispute in November 1904, she stated that she had lived on the premises (where she ran a school) for 40 years.

Residence 1871 • King Street, Emsworth, Hampshire, England Age: 45; Living with daughters Florence and Ellen who are in school. She is married and a schoolmistress - husband is a mariner and not at home. They live next to her mother, a retired timber merchant, who lives with other daughter, Victoria, a teacher.

Residence 1881 • 8 King Street, Emsworth, Hampshire, England She is widowed and a schoolmistress at her boarding school, living with grown spinster daughters who are teachers and with their female student boarders. Her elderly mother lives next door.

Residence 1901 • 5 & 7 King Street, Emsworth, Hampshire, England Age: 75; Occupying the premises of 5 and 7 King Street, which is a school. She is a schoolmistress as are her two daughters, Florence and Ellen. They have six female boarders.

Residence 02 Apr 1911 • 7 & 5 King Street, Warblington, Hampshire, England Age in 1911: 85; Marital Status: Widowed; Living on private means with two unmarried daughters and one servant. She has had 5 children; 2 have died.

Wrote Letters and Knitted Socks for Soldiers from Emsworth 1914-1918 • Emsworth, Hampshire, England "How many Emsworth soldiers were the recipients of cheery messages during the Great War, it would be difficult to tell, but suffice it to say she wrote as many as nine letters each evening to the "boys" from the town" - Portsmouth Evening News, 5 Mar 1926

100th Birthday Celebrated in the Papers 5 March 1926 • Emsworth, Warblington, Hampshire, England "Expressions of goodwill have been showered upon the "grand old lady" of Emsworth...We join sincerely with all her many friends and the town in general in wishing her "many happy returns of the day" - Ports Eve. News, 5 Mar. 1926
In common with all the inhabitants of Emsworth, we tender hearty congratulations to Mrs. Jane Anne Jewell, who today (Friday) celebrates the 100th anniversary of her birthday. Expressions of goodwill have been showered upon the "grand old lady of Emsworth," and an illuminated autograph album containing the signatures of many old inhabitants has been presented her as a memento of the unique occasion.
Mrs. Jewell lives at No. 7 King Street, in a house built during the reign of George III and practically all her life has been spent in Emsworth. She was born on March 6, 1826, in "The Hut," which stands at the bottom of King Street, and in 1848 she married a captain of a troopship. She has always been keenly interested in the work of the parish, the hospital, and the fishermen, and it was about two years ago that she gave the residents the benefit of her knowledge of the growth of Emsworth by means of a lengthy series of "Annals of the Parish" in the Church magazine.
How many Emsworth soldiers were the recipients of cheery messages from her during the Great War it would be difficult to tell, but suffice it to say that she wrote as many as nine letters each evening to the "boys" from the town. In addition to this self-imposed task, Mrs. Jewell kept busy with the needles and knitted innumerable pairs of socks and other comforts for the Emsworth men in the firing line.
Despite her great age, Mrs. Jewell continues to keep fully in touch with the modern world through the daily newspapers, which she reads with the aid of glasses, but the latter are not needed by her when she is knitting. There are two daughters, the Misses Ellen and Florence Jewell, both of whom live at home.
Her Reminiscences.
A host of reminiscences can be recalled by Mrs. Jewell, who is the possessor of a remarkably retentive memory, and in an interview granted to a "Hampshire Telegraph and Post" representative, she retraced her steps through the period of years to the time when Emswroth was little more than a hamlet. The town did not then possess a church of its own, and Mrs. Jewell attended the Warblington Church.
The absence of railways and means of transport other than the stage coaches did not affect Mrs. Jewell, who had her own horses and carriages, and her husband, being often away from home, as became his position as troopship captain, she did not leave her native village for any considerable period.
Mrs. Jewell recalled with pride the fact that her great-grandfather named the street in which she now lives, and that he was the builder of all the barges of the time which conveyed Nelson's sailors to scenes of action. In connection with this fact she exhibited a cleverly constructed model, complete with cork "men," which represented the bluejackets taking marines to battle.
Tussle with the Press Gang.
Mrs. Jewell recalled how John King, her great-grandfather, had an exciting tussle with the Press gang who had visited his building yard to press his employees into service. Mr. King did not recognized that the Pressmen had any right to "press" his men, who were already serving the country by supplying the ships, and he stood on guard at the gate entrance to his yard, armed with a formidable hatchet. With this, he threatened to cut off the hand of any man who dared to attempt the opening of the gate and for hours he remained as sentinel, while he sent posthaste a messenger on horseback to Portsmouth to justify his objection. In the end, a reply was brought that as the men were already serving the King, the Pressmen had no right to "press" his employees, and so John King won the day. This trait of bravery was strikingly displayed by another of Mrs. Jewell's ancestors who, in a battle with Napoleon's forces at sea, had both legs cut off, and he appealed to his comrades to throw him overboard, but this they would not do.
The astonishing fact that shingling of the hair, at present the prevailing fashion, is not at all a new idea, was revealed by Mrs. Jewell, who stated that in 1840 she had cut off the hair at the base of the neck and wore a long curl at each side of the head. This was a mode of the time, but two cousins of Mrs. Jewel, who had been staying in Paris, told her on their return that her style of hairdressing was then out of fashion, and Mrs. Jewell accordingly reverted to long hair.
There is no doubt that Mrs. Jewell is a remarkable woman for her age. She retains all her faculties and has recently recovered from an attack of pneumonia. When health permits, she attends church regularly, and by no means confines herself to the house. We join sincerely with all her many friends and the town in general, in wishing her "many happy returns of the day."


Sent Greetings to the King at Bognor Regis 5 March 1929 • Emsworth, Hampshire, England "Mrs. Jane Jewell, Emsworth's centenarian, is an ardent admirer of the Royal Family and yesterday sent this telegram to the King, at Bognor: On my 103rd birthday I humbly send loyal greetings and hopes for your speedy recovery" - West. Morn. News, 6 March

Walk to Church Reported in Portsmouth Evening News 7 February 1930 • Emsworth, Hampshire, England "Centenarian's Walk: Despite the cold snap in the weather yesterday, Mrs. Jewell, who is approaching her 104th birthday, visited St. James Church and took part in the midday communion service. She walked along the church path assisted by her daughter"

"Mother of Emsworth": Mrs. Jewell Attends School at 104 11 September 1930 • Emsworth, Hampshire, England "...After asking the children to excuse her for sitting down, inquired after their studies and told them that she had known many of their mothers, their grandmothers and their great-grandmothers" - Ports Evening News, 12 Sept 1930

Visited Friend in Havant 26 September 1930 • Havant, Hampshire, England "104 Meets 103: Mrs. Jane Jewell, aged 104, of Emsworth (Hants), motored to Havant on Friday and called on Miss Bannister, aged 103, with whom she chatted for a long time" - Hull Daily Mail, 27 September 1930

105th Birthday Reported in the Evening Telegraph 5 March 1931 • Emsworth, Hampshire, England "She visited a paralyzed friend half a mile away, entered the schools and thanked children for flowers they had sent; walked to church and received Holy Communion. Mrs Jewell hopes to record her vote in the next General Election" - Evening Tel., 6 Mar 1931

Death 28 November 1931 • Emsworth, Hampshire, England "She spent practically all her life in Emsworth, in a street named after her great-grandfather, John King, who built all ships' barges for the navy of Nelson's time." - Lancs. Evening Post. Probate of £3913 went to daughters Florence and Ellen, spinsters.
DIED AT 105
Emsworth's Grand Old Lady
MRS. J.A. JEWELL
Believed in Modern Girls
MRS. JANE ANNE JEWELL, of Emsworth, who was in her 106th year, died at midnight on Saturday. Almost weekly she walked through the churchyard and down the aisle to the farthermost pew to attend Holy Communion, and with those visits she would often couple a call on sick townsfolk and an inspection of the church school and the work of the pupils. 
Her patriotism was very solid and she celebrated one of her birthdays by telegraphing to H.M. the King, wishing him a speedy recovery while he was convalescing in the neighbouring town of Bognor Regis.
"England is not 'going to the dogs,'" she once declared, adding, "I heard the same tale when I was a girl, but the Old Country pulled through then and she will do so again."
"One of the changes I have noticed is in the giving of charity. In the old days, charity was given without it being asked for, but nowadays people seem to demand it."
Emsworth's Grand Old Lady also had a good word to say about the modern girls. "Some people call them flappers and think they are horrid but we had flappers in my younger days and most of them turned out to be very good citizens. They won't be too bad if they don't lose their Christian principles."
As is well known, Mrs. Jewell disliked idleness and every morning used to tidy her bedroom. During recent weeks she had been busy compiling her reminiscences of Emsworth which were to have been recited at a meeting of the Literary and Philosophical Society this month.
Much sorrow has been occasioned to residents of the town and district by her death, which has taken place almost within a fortnight of the demise of her old Havant friend, Miss Bannister (104) with whom she had hoped to resume her reminiscent conversations.