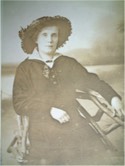 Birth
22 Mar 1888, Leeds, Yorkshire, England
Baptism
7 Oct 1888, St Matthews, Leeds, Yorkshire
Death
14 Jul 1958, 41 Park Road, Guiseley, Yorkshire
Burial
St. Oswald, Guiseley, Yorkshire
Spouses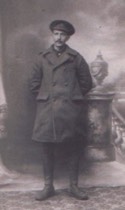 Birth
1 Jan 1885, Guiseley, Yorkshire
Burial
19 Mar 1917, St. Oswald, Guiseley, Yorkshire
Marriage
15 Feb 1908, St. Oswald, Guiseley, Yorkshire
Notes for Constance Elizabeth SIMMONDS
Listed in the April to June 1888 Birth index Constance Elizabeth Simmonds Leeds, volume 9b page 444.

Birth Certificate courtesy Gordon Slater
Twenty Second, March 1888, 2 Armenia Place USD, Constance Elizabeth Simmonds, father Alfred Simmonds, mother Emily Margaret Simmonds, formerly Lowe, father's occupation Musician.

Parish records Courtesy of Gordon Slater
St Matthews Leeds, Yorkshire Baptism October 7, 1888, Constance Elizabeth Simmonds, parents Alfred and Emily Margaret Simmonds, abode 1 Brunswick Row, father's occupation Musician.

In the 1891 census living at 24 Victoria Model Dwellings, Francis Street, Civil Parish: St Margaret and St John The Evangelist Westminster Ecclesiastical parish: St Stephens, London, England.
Alfred S. Simmonds, married, age 26, occupation Musician, 1st Battalion of Scots Guards, born at Hounslow, Middlesex.
Emily M. Simmonds age 24, born at Harewood, Yorkshire.
Daughter Constance E. Simmonds, age 3, born at Leeds, Yorkshire.
[The head of almost every family living in the Victoria Dwellings was a soldier of the Scot Guards or Grenadier Guards. A number of them were musicians. The next building listed on the census is listed as the Guards Industrial Home 47 Frances Street, which is a school to maintain, educate, and train (up to 17 years of age) for domestic service the daughters of non-commissioned Officers and men of the Guards.]

In the 1901 census living at 104 Coleshill Bldgs. Civil Parish St George and Hanover Square, Ecclesiastical Parish St Barnabas, Westminster, London.
Head Alfred Symondson, married, age 36, born at Hounslow, Middlesex, occupation musician (Scots Guards)
Wife Alice Symondson age 27, born at Dartmouth, Devon.
Daughter Constance Symondson, age 13 born at Leeds, Yorkshire.
Son Stuart Symondson age 6 born at Pimlico, London and
Son Gordon Symondson age 4 born Pimlico.

Listed in the 1908 January to March Marriage index volume 9a page 200, Wharfedale district, West Riding Yorkshire, Constance Elizabeth Simmonds. On the same page is Albert Brayshaw.

Marriage certificate states.
Marriage solemnized at the parish church of Guiseley in the county of York. February 15, 1908 Albert Brayshaw, age 23, Bachelor, profession Dyer, residence Guiseley, father John Brayshaw. plasterer. Constance Elizabeth Simmonds, age 20, Spinster, residence Guiseley, father Alfred Stewart Simmonds, Musician. In the presence of Alfred Pearson and Dora Pearson. [Dora is Alfred's sister]

In the 1911 census at 8 Alva Terrace, Guiseley, Yorkshire.
Mary Brayshaw, wife [her husband must have been away as the first line of the form is left blank] age 53, married 30 years, 5 children, 4 are still alive, occupation housework at home, born Guiseley, Yorkshire, British subject by parentage. [as is everyone in the household]
Daughter Charlotte Brayshaw, age 28, single, occupation rag filler, born Guiseley.
Son Albert Brayshaw, age 26, married Cotton Dyers Labourer, born Newscarborough.
Daughter in law, Constance Brayshaw, age 23, married 3 years, 3 children born, all living, born Leeds Yorkshire.
Grand-daughter Emily Brayshaw, age 3, born Guiseley.
Grand-daughter Ruby Brayshaw, age 2, born Guisleey.
Grand-daughter Olive Brayshaw, age 10 months, born Guiseley
The document is signed by Constance Brayshaw.
There are 6 rooms in the house.

West Yorkshire electoral Registers 1934
6 Hawkhill Mount, Guiseley
Constance Elizabeth Brayshaw
Olive Patience Brayshaw
Ruby Ada Brayshaw
Gordon Percy Stuart [as spelled] Brayshaw

West Yorkshire Electoral Registers 1945
41 Park Road, Shipley, polling district Guiseley
Constance Elizabeth Brayshaw
Olive Patience Brayshaw

Death Certificate courtesy Gordon Slater.
Wharfedale registration district, Aireborough sub district, county of York, West Riding. Fourteenth July 1958, 41 Park Road, Guiseley, Constance Elizabeth Brayshaw, age 70 years, Widow of Albert Brayshaw a Labourer (textile Dyers and Finishers), Coronary Thrombosis, hypertension and Arteo-schlerosis.
Notes for Albert (Spouse 1)
[Why is there a discrepancy about his age. Other sources indicate he was born about 1885, his military records say 1888.]

In the January to March 1885 birth index Albert Brayshaw, Wharfedale, Yorkshire West Riding, volume 9a, page 149.

in the 1891 census Guiseley, Yorkshire No. 10 Belle??? Terrace.
John Brayshaw, married, age 37, plasterer, Born Bishop Auckland.
Wife Mary A? Brayshaw, married, age 33, born Guiseley.
Son Joseph Brayshaw, age 10, scholar, born Guiseley.
Daughter Charlotte Brayshaw, age 8.
Son Albert Brayshaw age 6.
Daughter Dora Brayshaw age 4.

In the 1901 census civil parish of Guiseley, Yorkshire, ecclesiastical parish of Guiseley St. Oswald, registration district Wharfedale, sub district Yeadon No. 7 Bell??? Terrace.
John Brayshaw, head, married, age 45, plasterer, born Bishop Auckland, Durham.
Wife Mary A? Brayshaw, unmarried?, age 43, born Guiseley, Yorkshire.
Son Joseph Brayshaw, single, age 20, book riveter, born Guiseley.
Daughter Charlotte, single age 18, born Guiseley.
Son Albert Brayshaw, single, age 16, carter, born Guiseley.
Daughter Dora Brayshaw, age 14, rag sorter, born Guiseley.

His Military Records give the following information. [The outside edges of the forms are black, possibly burnt and thus unreadable]
Attestation papers dated 12 June 1914.
No 724 G. A. Brayshaw 4th W.R. (AC) R
Albert Brayshaw
In the Parish of Guiseley, near Leeds, Yorkshire
age 26 years 6 months
Labourer employed by James Ives & Co. Yeadon
Residing at 8 Alva Terrace Guiseley
Formerly belonged to J? Batt of WWR Ry. (Volunteers)
Height 5 feet 9 inches
Fit for the 4th West Riding Howtz Bde R LA?

On another form 29 August 1917
Will you please note that any articles of personal property in your possession or subsequently received by you belonging to the late
No 785066 Gunner Albert Brayshaw Royal Field Artillery 247th Bd.
should be dispatched to Mrs. Constance Elizabeth Brayshaw
8 Alva Terrace
Guiseley nr Leeds
Admitted to hospital 16 September 1916, discharged 2 January 1917, Pleuresy
Admitted to Hospital (Ripon) 7 March 1917, died 9 P.M. 14 March 1917
disease Bronchopneumonia?
Remarks An extraordinary case with features of Meningitis: Typhoid fever in addition to the Bronchopneumonia. Typhoid fever eliminated by ?????
Examination confirmed the diagnosis of Bronchopneumonia and also revealed Tubercular nodules of the R. Lung and signs of old ???? ???? Meningitis. Death due to Bronchopneumonia.
A pension of 28/9 a week awarded to the widow and her children.

Home 16-6-14 to 4-8-14
???bodied 5-8-14 to 14-4-15
France 15-4-15 to 5-9-16
Home 16-9-16 to 14-3-17
1914-15 Star T.F.
British War Medal
Victory Medal

Death certificate
Ripon district, Ripon sub-district, County of Yorkshire
Fourteenth March 1917, Albert Brayshaw, male, age 32 years, 48 Albert Terrace, Guiseley nr Leeds, Gunner Royal Artillery, Dyer, Broncho pneumonia 14 days and P.M. Old Tubercle of R. Lung, E. Harris present at death 3rd St., St James St, South Bath

From Gordon Brayshaw
INSCRIPTION ON BURIAL HEAD STONE IN GUISELEY Parish Church (St OSWALDS)
IN LOVING MEMORY OF/ JOHN BRAYSHAW / DIED 24 JAN 1916 2yrs 6months/
AND ALBERT / FATHER OF THE ABOVE / DIED 16 MARCH 1917 AGED 32yrs /
ALSO OUR DEAR MOTHER / CONSTANCE / DIED 14 JULY 1958 AGED 70yrs /
785066 DRIVER / A. BRAYSHAW / ROYAL FIELD ARTILLERY / 14 MARCH 1917
AGED 32 / JOHN ALFRED / SON OF THE ABOVE / JAN 1916
GORDON PERCY STEWART BRAYSHAW DIED 28.9.1992.AGED 81 yrs.
Also buried in the same grave Mavis Slater born 1.11.1930 died 5.11.1930. Daughter of Albert and Muriel Slater nee (Brayshaw) no name on stone
(Albert) See date on Death certificate 14th March 1917 and
Tomb stone above 16th March 1917 (is this the date he was buried)

Parish Records St. Oswald, Guiseley, Yorkshire
Albert Brayshaw, abode Military Hospital, Ripon, buried March 19, 1917, age 32, J. F. Howson, rector.