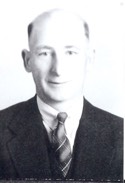 Birth
10 Jul 1897, Fairburry, Nebraska
Spouses
Birth
6 Dec 1900, Garden City, Utah
Death
1956, Sacramento, California
Marriage
14 Jun 1921, Bear Lake, Idaho
Marriage
29 Oct 1934, Box Elder, Utah
Notes for Bladen Ozro CAPELL
WWI Civilian draft registrations Blade Ozro Capell, born July 10, 1897, born Alexandno, NE,White Pine, Nevada

In the US 1900 census there is a Horace Capel, born July 1870 in England who is a farmer.
His wife is Clara I. Capel born July 1861 in Indiana (father Ohio, mother Indiana).
The children are Violet born 1888 in Nebraska (could Violet be a child from a previous marriage?, esp Clara),
Ozro B. born July 1897 in Nebraska and
Mary D born Feb.1899.
The family was living in Thayer, Nebraska.

In the 1910 census Idaho Industrial Training School, St. Anthony Precinct, Fremont, Idaho.
Bladen O. Capell, pupil, age 17, born Idaho, father and mother born in United States.

WWI Draft registration cards, Bladen Ozro Capell, White Pine Nevada, born Nebraska, July 10, 1897. Father born ??? England, closest relative ??? C J Capell, Langano? PO Vancouver B.C. Eyes brown, hair brown. Tall

In the 1920 US census living in Kemmerer, Lincoln, Wyoming,
Bladen O. Capell, age 22 born in Nebraska, father born in England, mother in Indiana. He was listed as a roomer, with an occupation as a Fireman, Locomotive. He was single.

Idaho Select Marriages
Marriage June 14, 1921 at Paris, Bear Lake, Nebraska
Bladen Orzo Capell, single, age 23, born Fairburry, Nebraska, and
Madge Elizabeth Crawford, single, age 20, born Garden City, Utah

In the 1930 US census, Pocatello, Bannock, Idaho.
Bladen O. Capell age 33, born Idaho, father born in England, truck driver.
Wife Madge Capell, age 27, born Utah, father born in Maine, mother born in Utah, Practical Nurse.
Son Bladen Capell, age 7, born Idaho.
Daughter, Ada Capell, age 6, born Idaho.
Daughter Helen Capell, age 3 6/12, born Idaho.

Utah Select Marriages
October 29, 1934, Box Elder, Utah
Bladen O. Capell and Zina H. Kruse

From Western states Marriage Recods Index
Marriage October 29, 1934, Bingham City, Box Elder, Utah
Bladen O. Capell, of Pocatello, Idaho and
Mrs. Zina H. Kruze of Blackfoot, Idaho. [Thus she was previously married]

In the 1940 US census Groveland, Bingham, Idaho
Head Bladen O. Capell, age 42, born Nebraska, farmer.
Wife Hazel Capell, age 43, born Idaho
Daughter Theodora, age 11, born Idaho. [She would be from Hazel's previous marriage]

From Post Register (Idaho Falls, Idaho)
Idaho Deaths: Bladen O. Capell, 62, Blackfoot

Later he was a farmer and a cattleman.
Notes for Madge Elizabeth (Spouse 1)
daughter of Ruel Crawford, of Paris, Idaho, U.S.A.

Idaho marriages Bladen Ozro Capell and Madge Elizabeth Crawford, married June 14, 1921, Paris, Bear Lake CO. Idaho

Divorced 1929 [This seems to be contradicted by the 1930 US Census]

Idaho State Journal (Pocatello Idaho) Aug. 6 1956
Obituary
Mrs Madge Stewart, 55, 11 Seavey Circle, Sacremento, Calif., formerly of Pocatello, died Wednesday in Sacramento.
She was born December 6, 1900 at Garden City Utah to Mr. and Mrs. Ruel Francis Crawford. She lived at Garden City until 1920 when she came to Pocatello, living there until 1941. She married Clemone Stewart at Blackfoot May 13, 1935. They moved to Spokane, Wash. where they lived until 1954 when they moved to Sacramento. Mrs Stewart had been employed at the Temple B'Nai Israel in Sacramento.
She is survived by her husband, one son, Bladen H. Capell, Uba[Yuba?] City, Calif., two daughters Mrs. Ada Boren and Mrs Helen Sampson, both of Spokane Wash. and also by four brothers L. D. Blackfoot; E. H., G. B. and Charles Crawford, all of Paris Ida.: two sisters, Mrs. Amber Gobel?, paris; Mrs Myrtle? Byington?, Preston: and eight grandchildren.
Funeral services will be conducted today at 3 p.m. at the Manning Funeral Chapel with Bishop Frank L. Hammon of LDS Ninth ward officiating. Burial will be at Mountainview cemetary.

California Death Index
Madge Elizabeth Stewart, born December 6, 1901 [note different year], Utah, died August 1, 1956, Sacramento.
Notes for Zina Hazel (Spouse 2)
no issue