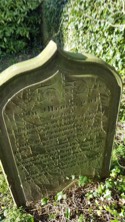 Birth
16 Apr 1798, East Keswick, Yorkshire, England
Baptism
13 May 1798, Harewood, Ripon, Yorkshire, England
Burial
1 Sep 1865, Harewood, Ripon, Yorkshire, England
Spouses
1
Thomas LOWE


, GGG Grandfather
Birth
abt 1788, West Yorkshire
Burial
20 Dec 1830, Adel, Leeds, Yorkshire
Occupation
Coachman, Groom
Marriage
23 Nov 1818, Otley, Yorkshire
Notes for Sarah SCATCHARD
Parish Records All Saints, Harewood, Yorkshire
Born April 16, 1798 Sarah, daughter of John and Patience Scatchard of East Keswick, christened May 13, 1798

The IGI has a Sarah Scatchard, born on April 16, 1798, christened on May 13, 1798 at Harewood Yorkshire, father John Scatchard, mother Patience.

Parish records All Saints, Otley, Yorkshire
Thomas Lowe of this parish and Sarah Scatchard of this parish, married by banns, both parties 21 years this twenty third day of November 1818 by me Henry Robinson, Vicar. In the presence of ?? Maskill? and Francis Watson?

In the 1841 census, Breary Green, parish of Addle, township of Arthington, civil parish of Addle Skyrack Hundred (upper division), registration district Otley, sub district Harewood, Yorkshire West Riding.
Sarah Low age 40 .
Mary Low age 20.
Sarah Low age 16.
Elizabeth Low age 14.
Henry Low age 12.
All born in Yorkshire. [Remember ages of adults are rounded to the nearest 5 years]
[Arthington and Bramhope are about 1.5 miles apart. A Breary Lane is between the two centres but does not connect them.]

In the 1842 White's Directory
East Keswick, village and township, 2 miles East of Harewood , has 1460 acres and 456 souls.
Some of the persons listed are
Farmers
Sarah Lowe
Robert Scatchard
Robert Sharper
Joiners
John Nunn

In the 1851 census civil parish , East Keswick, Town of East Keswick, Yorkshire, registration district of Tadcaster, sub district Appleton. Mount Pleasant,
Head Robert Scatchard, unmarried, age 54 farmer and land owner of 23 acres, born at East Keswick.
Sarah Lowe sister, widow, age 52, housekeeper, born at East Keswick.
Niece Elizabeth Lowe, unmarried age 23, farmer's niece, born at Bramhope?, Yorkshire.
Nephew Henry Lowe age 21, unmarried born at the same place as his sister.

Directory of Leeds, Halifax, Huddersfield, Wakefield ..., 1858
Harewood parish, East Keswick
Farmers Sarah Lowe (There are 15 other farmers listed as well, including Robt. Scatchard)
Note: East Keswick is a village and township East of Harewood, containing 146 acres and 456 inhabitants. Here is a small Chapel of Ease, built by subscription in 1856

In the 1861 census listed as living on South Street East Keswick.
Sarah Lowe is the head of the household is a widow age 62, born at East Keswick, a farmer of 21 acres.
Living with her are her brother Robert Scatchard, unmarried age 65 , born in East Keswick, an invalid.
Also living there are her unmarried sister Betsy Scatchard age 63, born at East Keswick, occupation indecipherable. T
hey have a servant Rachael Lacey.

Compiled by Joseph Henry Lowe Nov 14 1905 (Sunday)
Copied at East Keswick? At the Church of St.Mary Magdalene by Joseph Henry Lowe Nov. 18th 1905 (Wednesday)
In Memory of late Sarah Lowe of East Keswick widow of Thomas Lowe of Bramhope she died August 29th 1865 in the 68th year of her life.

Parish Records All Saints, Harewood, Yorkshire
Burials, Sarah Lowe, East Keswick, buried September 1, 1865, age 67
Notes for Thomas (Spouse 1)
of Bramhope

In the IGI Thomas Lowe married Sarah Scatchard on November 23, 1818 in Otley, Yorkshire.
In addition the IGI lists a Henry Lowe, christened June 7, 1829 at Otley, Yorkshire, father Thomas Lowe, mother Sarah. Also an Elizabeth Lowe christened June 03 1827 at Otley Yorkshire, father Thomas Lowe, mother Sarah. There are other christenings as well for the same couple in the same town. Joseph Lowe May 30, 1819, Mary Lowe July 8, 1821, Ann Lowe June 15, 1823, and Sarah Lowe, May 29, 1825

From notebook of Joseph Harry Lowe, courtesy of Gordon Slater.
Lowe of Bramhope (formerly of Birmingham and Wolverhampton) copied at Adel Church Wed. Nov 8th 1905
Adel Church is dedicated to St John the Baptist it is very ancient dating back to 1011. And is of Norman Architecture the vault is situated at the North East of the Church.
Lowe of East Keswick
In memory of Thomas Lowe of Bramhope died Dec. 16th 1830. Aged 42yrs

Parish Records St. John the Baptist, Adel, Yorkshire
Burial Thomas Lowe, Bramhope parish of Otley, December 20, 1830, age 42.

The findagrave.com website has a photo of his headstone and a death date of December 16, 1850 at Bramhope. Obviously there is a transcription error, not sure if it should be 1830 or 1850. It also says he was born in West Yorkshire.