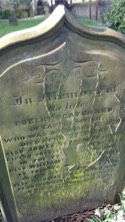 Birth
1 May 1794, East Keswick, Yorkshire, England
Baptism
27 Jun 1794, Harewood, Ripon, Yorkshire, England
Burial
30 Apr 1866, East Keswick, Yorkshire, England
Notes for Robert SCATCHARD
Parish records All Saints, Harewood, Yorkshire
Robert Scatchard born May 1, 1794, christened June 27, 1794, son of John and Patience Scatchard, of East Keswick.

Robert Scatchard appears in the Land tax Records for East Keswick Yorkshire as occupying land owned by Fenton Scott, esquire Mrs Fenton Scott from 1815 to 1846. Also he appears as occupying his own land in 1846.

In the 1841 census civil parish of Harewood, Skyrack Hundred (Lower Division), registration district of Tadcaster, Bramham sub district.
John Scatchard age 48, Surgical Apothecary, born in the county.
Robert Scatchard age 47, born in the county, Limeburner.
Hannah Scatchard age 25 Housekeeper, born in the county.

In the 1842 White's Directory
East Keswick, village and township, 2 miles East of Harewood , has 1460 acres and 456 souls.
Some of the persons listed are
Farmers
Sarah Lowe
Robert Scatchard
Robert Sharper
Joiners
John Nunn

In the 1851 census civil parish , East Keswick, Town of East Keswick, Yorkshire, registration district of Tadcaster, sub district Appleton. Mount Pleasant,
Head Robert Scatchard, unmarried, age 54 farmer and land owner of 23 acres, born at East Keswick.
Sarah Lowe sister, widow, age 52, housekeeper, born at East Keswick.
Niece Elizabeth Lowe, unmarried age 23, farmer's niece, born at ????, Yorkshire.
Nephew Henry Lowe age 21, unmarried born at the same place as his sister.

Directory of Leeds, Halifax, Huddersfield, Wakefield ..., 1858
Harewood parish, East Keswick
Farmers Robt. Scatchard (There are 15 other farmers listed as well, including Sarah Lowe)

In the 1861 census listed as living on South Street East Keswick.
Sarah Lowe is the head of the household is a widow age 62, born at East Keswick, a farmer of 21 acres.
Living with her are her brother Robert Scatchard, unmarried age 65 , born in East Keswick, an invalid.
Also living there are her unmarried sister Betsy Scatchard age 63, born at East Keswick, occupation indecipherable.
They have a servant Rachael Lacey.

A possible listing in the April to June 1866 death index, Robert Scatchard, age 72, Wetherby district, Yorkshire West Riding, volume 9a page 91.

Compiled by Joseph Henry Lowe Nov 14 1905 (Sunday)
Copied at East Keswick? At the Church of St.Mary Magdalene by Joseph Henry Lowe Nov. 15th 1905 (Wednesday)
Scatchard of East Keswick in Memory of the late Robert Scatchard of East Keswick who was born
May 1st 1794 died April 27th 1866

Parish records Harewood
Burial Robert Scatchard, East Keswick, April 30, 1866, age 72.