Birth
16 Jun 1839, Hounslow, Middlesex, England
Burial
St. Leonard's Church, Heston, Middlesex
Spouses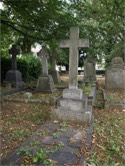 1
Henry SYMONDSON (SIMMONDS)


, GG Grandfather
Birth
15 Oct 1832, St. Pancras, Middlesex, England
Burial
26 Apr 1911, St. Leonard's Church, Heston, Middlesex
Occupation
Musician, Band Sergeant, Staff Sergeant, Foreman Of Brickworks, Manager Of Brickfield, Clerk
Marriage
27 May 1860, St Leonard, Heston
Notes for Barbara MILLS
Birth Certificate Brentford district, Isleworth sub-district, Middlesex
Sixteenth of June 1839 at Hounslow, Heston, Barbara, girl, father John Mills, mother Mary Ann Mills formerly Goddard, father's occupation Postboy, informant Mary Ann Mills mother at Hounslow, registered Ninth of July 1839.
Courtesy of Anne Tillotson

In the July to September 1839 birth index is a Barbara Mills Brentford District volume III page 17.

Parish records Saint Paul, Hounslow, Heath, a christening for Barbara Mills, July 14, 1839, Hounslow, father John Mills mother Mary Ann, father's occupation Post Boy.

In the 1841 census High Street Civil Parish of Heston, Isleworth hundred, Middlesex, England Brentford registration district Isleworth sub registration district
John Mills age 35, occupation Post Boy,
Mary Ann Mills age 35,
Emily Mills age 13,
George Mills age 11,
Elizabeth Mills age 6, and
Barbara Mills age 2.
Elizabeth and Barbara are born in the county, the others are not.

In the 1851 census lists In High Street Hounslow Prince Regent.
Head John Mills Publican and Omnibus Conductor age not readable born Bevsea, Oxfordshire
Wife Mary Ann Mills age not readable, born Colesbourne, Gloustershire.
Children George Mills age unreadable born Salt Hill Buckinghamshire,
Elizabeth Mills, age 16 born Hounslow,
Barbara Mills age 11 born Hounslow,
Rosa Mills age 5 born Hounslow.
They have 2 servants and a servant's daughter living with them.

In the January to March 1924 death index Barbara Symondson, age 84, Wandsworth district, greater London, volume 1d, page 955.
Notes for Henry (Spouse 1)
In the 1841 census Henry Symondson age 38, pianoforte ma [maker].
Wife Teresa age 40. Son Alfred age 10,
son Henry age 9,
son Frederick age 7,
daughter Louisa age 5,
son? Teresa age 3.
All were born in the county of Middlesex.
Civil parish St Pancras, Hundred Ossulstone (Holborn Division), Middlesex, Registration district St Pancras, sub registration district Regents Park. Living on Robert Street.

In the 1851 census living with his widowed mother, working as a music seller.

In the 1860 April to June Marriage index Henry Symondson and Barbara Mills, Brentford district, Middlesex volume 3a page 72b.

Parish records Saint Leonard, Heston
marriage solemnized at the Parish Church in the parish of Heston, Middlesex
May 27, 1860
Henry Symondson, age 26, bachelor, musician, residence Hounslow, father Henry Symondson, Pianoforte maker
Barbara Mills, age 21, spinster, residence Hounslow, father John Mills, Publican
married after Banns
in the presence of Horace Usherwood? and Louisa Harriet May Symondson
[This would be Henry's aunt Louisa]

In the 1861 census Henry Simmonds living at Militia Cottages, Isleworth civil parish, Brentford District, Hounslow, Middlesex age 28, born at St Pancras, Middlesex, occupation Staff Sgt Militia.
Wife Barbara Simmonds age 22 born at Hounslow, Middlesex,
son Henry John Simmonds age 4 months born at Hounslow.
[The next cottage is the home of the bandmaster of the 4th Middlesex Militia.]

In the 1871 census Henry Simmons living at 4 Militia Cottage, Isleworth civil parish, Brentford District, Holy Trinity parish, Hounslow, Middlesex age 38, born at St Pancras, Middlesex, occupation Staff Sgt. Midx Militia.
Wife Barbara Simmons, age 31 born Heston.
Children Henry John Simmons age 10,
Sydney Fred Simmons age 8,
Alfred Stewart Simmons age 6 and
Herbert George Simmons age 3.
[Note the Militia cottages 1 to 20 are all occupied by Staff sergeants, Colour Sergeants or an adjutant and their families.]

In the 1881 census living at 25 Lion & Lamb Road Heston civil parish, Brentford District, Isleworth sub district.
Henry Simmonds married age 48, born at St. Pancras, Middlesex, occupation Foreman and Clerk? to Brickmaker.
Wife Barbara Simmonds age 40 born Hounslow, Middlesex.
Children Sidney F. Simmonds, unmarried, age 18, born Hounslow, Middlesex, occupation pupil teacher.
Alfred S. Simmonds, age 16, born Hounslow, Middlesex, occupation Musician P. Staff 4th Mx Militia.
Herbert G. Simmonds age 12 born at born Hounslow, Middlesex.
Marcella F. Simmonds age 7, born Hounslow, Middlesex.
Louisa C. Simmonds age 5, born Hounslow, Middlesex.
Amy B. Simmonds age 2, born Hounslow, Middlesex.
Henry J. Simmonds, age 20, born Hounslow, Middlesex, Musician Scots Guards. [
Lion and Lamb Road seems to be an extension or a part of High Street Brentford.]

A possible entry in the 1889 London Electoral registers
Henry Symondson, Lampton Road, Hounslow, dwelling house

In the 1891 census living at 6 Linton Terrace, Brentford district, Islesworth, Heston civil parish, Hounslow, Middlesex, England.
Henry Simmonds age 58, born at St Pancras, London, occupation clerk.
Wife Barbara Simmonds, age 51, born Hounslow.
Children Marcella age 17 born Hounslow,
Louisa age 15 born Hounslow,
Percy age 13, born Hounslow,
Amy age 9, [ there seems to be an mixup with Amy and Percy's age as she is born in 1878 and there is a Percy born in 1882. As well he is not listed in the 1881 census and Amy is listed. ] born Hounslow,
Lilly Simmonds, granddaughter age 6, born Pimlico London.

In the 1898 Kelly's Directory for Middlesex Henry Symondson 6 Linton terrace, Pampton Road, Hounslow.

In the 1901 census visiting his son Sydney and family (also there is another son Herbert and family) at 58 Narleigh Road Civil Parish Preston, Ecclesiastical parish of St Saviour, Brighton Sussex. Registration District Steyning, Sub registration district Shoreham.
Listed as Henry Symondson [note this is the third spelling of the name Simmonds, Simmons and Symondson. It also matches the spelling used by his son Alfred in the 1901 census in Westminster. He was born Symondson used variations of Simmonds then reverted to Symondson.] age 68, born at St Pancras, visitor, living on his own means.
Wife Barbara age 62 born at Hounslow.

In the 1911 census at "School House" Heston, Middlesex.
Head, Arthur William Andrews, age 36, married, Head Teacher (Elementary) District Council School, born Heston parish, Middlesex.
Wife Amy Barbara Andrews, age 32, married 10 years, 2 children born alive, 1 still living, born Isleworth, Middlesex.
Daughter Esme Freda Andrews, age 1 born Heston parish, Middlesex.
Boarder William Jenkins Jones, age 32, single, Teacher (Elementary) District Council School, born Sketty parish, Glamorgan.
[Perhaps he is the source of the Ysgoldy mentioned in Henry Symondson's burial record below]
Henry Symondson, visitor, age 78, married, Army pensioner, born St Pancras parish, Middlesex.
Barbara Symondson, visitor, married 50 years, 9 children born 8 still living, born Heston parish, Middlesex.
Servant Barbara Cooper, age 15, single, born Heston, Middlesex. There are 6 rooms in the house.

In the 1911 death index for April to June, as there is a Henry Simmonds age 78 volume 3a, page 38 Brentford district, Middlesex. Henry Simondson is listed on the same page and volume.

Parish Records Saint Leonard, Heston, Hounslow, Middlesex
Burial Henry Symondson Ysgoldy? ["YsgoldY" translates from Welsh as "Schoolroom" courtesy of Lynda Hardy, Archivist at St. Leonard's.] , Heston, April 26 1911, 78 years