Birth
1906, Ashton under Lyne, Lancashire
Death
5 Sep 1992, Kingston Upon Thames, Surrey
Spouses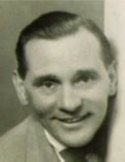 1
Ernest William SYMONDSON


, 1C2R
Birth
11 Nov 1903, Brighton, Sussex, England
Death
Dec 1988, Kingston Upon Thames, Surrey
Marriage
9 Nov 1935, Willesden, Middlesex
Notes for Marjorie Lloyd INGHAM
Also known as Gloria Arnley and Gloria Day (stage names)

In the July to September 1906 birth index Marjorie Lloyd Ingham, Ashton Under Lyne, Lancashire, volume 8d, page 502.

In the 1911 census Medlock Road, Woodhouses, Ashton under Lyne, Lancashire.
Head James Ingham, age 48, [crossed out by pencil and red pen married 8 years 6 children born alive 4 still living. The rest of the entry is in black pen. There must be children from a previous marriage included.], iron miller, worker, born Salford, Lancashire.
Wife Martha Ingham, age 38, married 8 years 3 children born alive 1 still living [this is in pencil], born Hazebrook, Lancashire.
Daughter Evelyn Ingham, age 19, single, hank winder (cotton), worker, born Salford.
Daughter Beatrice Ingham, age 13, single, weaver (cotton), worker, born Woodhouses, Lancashire.
Infant Marjorie Lloyd Ingham, age 4, born Woodhouses.
The house has 4 rooms. [Thus it would seem Evelyn, Beatrice and Frances (1901 census) are from a previous marriage and Marjorie is the only remaining child from this marriage.]

In the September 1992 death index Marjorie Lloyd Arnley, age 84 [The age seems to be out by 1 or 2 years] , Kingston Upon Thames, Surrey, volume 13, page 1502.
Notes for Ernest William (Spouse 1)
entertainer/actor.
Also known as Ernest Arnley

Earnest William Symondson is listed in the October to December 1903 birth index, Brighton volume 2b page 234.

In the 1911 census 1 St. Johns Hill Grove, Battersea SW, London
Sydney F. Simmonds, age 48, musician conductor, associated with a roller skating rink, employer, born Hounslow.
Wife Wilhelmina Simmonds, married 26 years, age 48, 10 children born alive all still living, born Holborn.
Daughter Constance Simmonds, single, age 22, musician roller skating rink, worker, born Hounslow. Son Robert Simmonds, single, age 17, Electrician Operator at Cinematograph Theatre, worker, born Hounslow.
Son Victor Simmonds, age 14, born Hounslow.
Son Lionel Simmonds, age 11, born Brighton, Sussex.
Daughter Phyllis Simmonds, age 9, born Brighton.
Son Ernest Simmonds, age 7, born Brighton.
The house had 7 rooms.
[Note most other family members are using the name Symondson in this census.]

UK Outward Passenger Lists
Departed July 20, 1929, London, on the Orama, destination Sydney Australia. Mr. E. Symondson, 89 Vicarage Road, Willisden NW 10, 3rd class, theatrical, age 25, intended future permanent address Australia. Mr. V. Symondson, age 31, theatrical, same address etc.

Canadian Passenger Lists
Departed Sydney, Australia, arrived Victoria, British Columbia on the S.S. Niagara April 24, 1930
Alfred V. Symondson known as Alfred V. Arnley, relationship brother,age 33?, place of birth London England, not in Canada before, occupation theatrical, enroute to London via Canada and U.S.A., nearest relative mother Mrs. W. Symondson, 96? Brownesbury Rivers, London W, England
Ernest W. Symondson, known as Ernest W. Arnley, age 26, single born Brighton, England.

Border Crossings from Canada to United States, May 6, 1930 Alfred Victor Symondson (known as Arnley), birth place London England , age 33, occupation Theatrical, nearest relative, mother Mrs. W. Symondson at 92 Bronesbury Rivers, London. He landed in Vancouver BC. on April 25, 1930, came from Auckland NZ. Height 5 ' 7", blue eyes. He was accompanied by brother Ernest W. Symondson (known as Arnley) age 36 (must be an error), occupation Theatrical

Listed as passengers on the Lancastria (Cunard Line), departed New York arrived May 12, 1930 Plymouth. Ernest Symondson, age 26, Theatrical, 92 Brondesbury Villas, Kilburn London. Alfred V. Symondson, age 33, Theatrical, 89 Vicarage Road, Willesden, London.

UK Outward Passenger Lists
Departed February 23, 1933 on the Strathaird destination Sydney, Australia, Ernest Symondson, 87 Vicarage Road W.W.10, tourist class, occupation theatrical, age 29, last permanent address England, intended future permanent residence England.

In the October to December 1935 marriage index Ernest W. Symondson and Ingham, Willesden district, Middlesex, volume 5a, page 960

From the London Gazette 21 February 1941

I, Ernest William Arnley of Number 13 Ashton Road East Farlsworth?, Manchester in the County of Lancs, Actor, a natural born British subject, heretofore called and known by the name of Ernest William Symondson, herby give notice that I have renounced and abandoned the use of my said surname Symondson and assumed in lieu thereof the surname of Arnley and further that such change of name is evidenced by a deed poll dated 7th February 1941 duly executed by me and attested and enrolled in the Enrolment Department of the Central Office of the Royal Courts of Justice this 18th day of February 1941

London electoral Registers 1946
89 Vicarage Road
Ernest W. Arnley [this is his stage name, Alfred's brother]
Constance W. Barge [Alfred's sister]
Garnet L. Smith [Alfred's nephew, son of sister Augusta]
Amy B. H. Symondson
Alfred V. Symondson
Frederick Thornton [Constance's son in law]
Phyllis M. Thornton [Constance's daughter]

From a Card
Ernest Arnley has appeared in Television, Broadcasting, Films, and was engaged for the Prince of Wales Theatre, London, to appear in "Strike it Again" in his variety act with Gloria. Also deputized for the late Sid Field.
He featured for the last eight years in Pantomime at the Grand Theatre, Leeds; Royal, Birmingham, for two years; Theatre Royal, Nottingham, for two years Empire, Newcastle; and the Lyceum, Sheffield, etc.
Betty Jumel's Brother-in-Law - a keen golfer - Ambition: to shine in "On with the Show" - the Show that made many Comedians famous.

In the October to December 1988 death index Ernest William Arnley, born November 11 1903, died Kingston Upon Thames, Surrey, volume 13m page 1968.