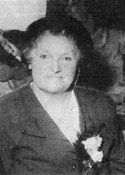 Birth
19 Feb 1889, Stockton, Durham
Spouses
Birth
abt 1887, Hartlepool, Durham, England
Notes for Ethel May LAYBOURN
In the January to March 1889 birth index, Ethel May Laybourn, Stockton, Durham, volume 10a, page 83.

from Gibson Family Tree by Ronald Gibson at ancestry.co.uk
Birth Certificate Stockton, Durham
February 19, 1889 Ethel May Laybourn, father Richard Laybourn, mother Martha Labour formerly Chisman, father is an iron dresser, informant is mother address 15 Stewart Street, Stockton

In the 1891 census 48 Everard Street Hartlepool, Durham.
Head Richard W. Laybourn, age 36, iron presser marine engine works, born Hartlepool, Durham.
Wife Martha E. Laybourn, age 29, born Hartlepool.
Daughter Elizabeth M. Laybourn, age 13, born Hartlepool.
Son John Laybourn, age 10, born Hartlepool.
Daughter Rebecca Laybourn, age 7, born Hartlepool.
Son James Laybourn, age 5, born Hartlepool.
Daughter Hannah Laybourn, age 4, born Hartlepool.
Daughter Ethel M. Laybourn, age 2, born Stockton, Durham.
Daughter Winifred Laybourn, age 6 months, born Hartlepool.
Lodgers Richard and Edward Cromarty.

In the 1901 census 48 Everard Street, Hartlepool, Durham.
Head Richard W. Laybourn, age 48, iron dresser, born Hartlepool.
Wife Martha E. Laybourn, age 39, born Hartlepool.
Son Charles W. Laybourn, single, age 20, dock labourer, born Hartlepool.
Son John Laybourn, single, age 19, apprentice moulder?, born Hartlepool.
Daughter Rebecca Laybourn, single, age 17, born Hartlepool.
Son James Laybourn, age 15, apprentice moulder, born Hartlepool.
Daughter Hannah Laybourn, age 13, born Hartlepool.
Daughter Ethel M. Laybourn, age 12, born Hartlepool.
Daughter Winifred Laybourn, age 10, born Hartlepool.
Daughter Sarah Laybourn, age 8, born Hartlepool.
Son Richard Laybourn, age 6, born Hartlepool.
Son Norman Laybourn, age 5, born Hartlepool.
Daughter Martha Laybourn, age 3, born Hartlepool.
Daughter Olive Laybourn, age 1, born Hartlepool.

In the July to September 1908 marriage index Thomas Auckland and on the same page Ethel May Laybourn, Hartlepool, Durham, volume 10a, page 199.

In the October to December 1918 marriage index Ethel Auckland and George Gibson, Hartlepool, Durham, volume 10a, page 209.

from Gibson Family Tree by Ronald Gibson at ancestry.co.uk
Death Certificate
Durham South East Registration District
Death in the Sub-district of Sedgefield in the county of Durham
April 1, 1964, Winterton House Sedgefield, Ethel May Gibson, female, 75 years, of 19 Brougham Street, Hartlepool wife of George Gibson, retired labourer (Engineering Worker), cause of death myocardial infarction and atherosclerosis, informant J? Auckland, son, 19 Brougham Street, Hartlepool, registered April 3, 1964, certificate issued to Roddam Gibson, 30 King Gowy Drive, West View, Hartlepool
Notes for Thomas (Spouse 1)
There is a Thomas Auckland listed in the January to March 1887 birth index, Hartlepool, Durham, volume 10a, page 113.

In the 1891 census living at 60 Mary Street, Hartlepool, Durham (Throston Parish) age 33, born at Newcastle, Northumberland employed as an iron moulder.
His wife Agnes C. Auckland age 28, born at Newcastle, Northumberland.
The children were Jessie R. Auckland age 7, born at Middlesbro, Yorkshire,
George C. Auckland age 5, born at Hartlepool,
Thomas Auckland age 4 born at Hartlepool, and
Sarah age 3, also born at Hartlepool.
Also Henry B. Keith age 15, stepbrother, single, Iron Moulder's Apprentice, born Newcastle, Northumberland.
Also 1 boarder Rueben Schofield.

In 1901 census general labourer, living with his step father.
In the 1901 census civil parish Throston, Eccleaiastical parish Holy Trinity, Hartlepool, Durham at 41 Lilly Street.
Head, William Coates, widower, age 49, iron moulder, born Gateshead, Durham.
Daughter Mary J. Coates, single, age 18, domestic servant, born, Sunderland, Durham.
Daughter Annie Coates, age 14, born Hartlepool.
Daughter Agnes Coates, age 4, born Hartlepool.
Stepson Thomas Auckland, age 15, born Hartlepool.
Stepdaughter Sarah Auckland, age 14, born Hartlepool.
Stepson Robert Auckland, age 9, born Hartlepool.

In the 1911 census at 15 Everard Street, Hartlepool, Durham.
Thomas Auckland, married, age 24, cartman for J. Patlison fish curer, born Hartlepool.
Wife Ethel Auckland, married 3 years, age 22, born Stockham, Durham.
Son George Laybourn, age 3, born Hartlepool.
Daughter Ethel Auckland, age 1, born Hartlepool.

from Grenville Davies, Hartlepool
There is a file here in Hartlepool library listing all the local men who gave there lives in World War 1. In it is listed:
Auckland, Thomas 41 Everard Street, Hartlepool.
private, Durham Light Infantry.
date of death 06 November 1916.

from www.findagrave.com
Thiepval Memorial, Thiepval, Department de la Somme, Picardie, France
Private Thomas Auckland
Durham Light Infantry
Death November 6, 1916
Regimental Number 7555
Plot: Pier and Face 14A and 15C

from www.cwgc.org
Commonwealth War Graves Commission
The Thiepval Memorial, the Memorial to the Missing of the Somme, bears the names of more than 72,000 officers and men of the United Kingdom and South African forces who died in the Somme sector before 20 March 1918 and have no known grave. Over 90% of those commemorated died between July and November 1916. The memorial also serves as an Anglo-French Battle Memorial in recognition of the joint nature of the 1916 offensive and a small cemetery containing equal numbers of Commonwealth and French graves lies at the foot of the memorial.

[This seems to be different Thomas Auckland] A possible connection there is a Thomas Auckland, born Hartlepool, residence Newcastle, enlisted in Hartlepool, private, Durham Light Infantry 1/9th Battalion, regimental number 7555, killed in action September 15 1916. Location France and Flanders.

His Medal card states the following.
Thomas Auckland, Durham Light Infantry, Private, Regimental Number 5/7555.
Victory medal and British Medal.

Since the name and regimental number are the same perhaps he was missing in action on September 15, 1916 and declared dead November 6, 1916.