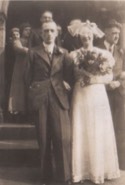 Birth
15 Apr 1909, Guiseley, Yorkshire
Spouses
Birth
12 Jul 1910, Bradford, Yorkshire
Notes for Ruby Ada BRAYSHAW
In the April to June 1909 birth index, Ruby Ada Brayshaw, Wharfedale district, Yorkshire, West Riding volume 9a page 151.

Birth certificate reads
Wharfedale district, Yeadon sub-district, Yorkshire
Birth Fifteenth April 1909, 1 Grove Terrace, Guiseley, Ruby Ada Brayshaw, father Albert Brayshaw, mother Constance Elizabeth Brayshaw formerly Simmonds, father's occupation cotton warp dyer (journeyman)

Parish Records St. Oswald, Guiseley, West Yorkshire
Born April 15, 1909, baptized July 20, 1910 , Ruby Ada Brayshaw, parents Albert and Constance Elizabeth Brayshaw of 1 Grove Terrace, father is a journeyman, by Hugh L. Bell assistant Curate. Also baptized at the same time was Olive Patience Brayshaw, born June 1, 1910.

In the 1911 census at 8 Alva Terrace, Guiseley, Yorkshire. Mary Brayshaw, wife [her husband must have been away as the first line of the form is left blank] age 53, married 30 years, 5 children, 4 are still alive, occupation housework at home, born Guiseley, Yorkshire, British subject by parentage. [as is everyone in the household] Daughter Charlotte Brayshaw, age 28, single, occupation rag filler, born Guiseley.
Son Albert Brayshaw, age 26, married Cotton Dyers Labourer, born Newscarborough. Daughter in law, Constance Brayshaw, age 23, married 3 years, 3 children born, all living, born Leeds Yorkshire. Grand-daughter Emily Brayshaw, age 3, born Guiseley. Grand-daughter Ruby Brayshaw, age 2, born Guiseley. Grand-daughter Olive Brayshaw, age 10 months, born Guiseley The document is signed by Constance Brayshaw. There are 6 rooms in the house.

West Yorkshire electoral Registers 1934
6 Hawkhill Mount, Guiseley
Constance Elizabeth Brayshaw
Olive Patience Brayshaw
Ruby Ada Brayshaw
Gordon Percy Stuart [as spelled] Brayshaw

In the April to June 1938 marriage index, Ruby A Brayshaw and Isaac Naylor, Wharfedale, Yorkshire, volume 9a, page 387.

Marriage certificate reads Parish Church Guiseley, County York.
April 16th 1938 Isaac Naylor, age 27, Bachelor, occupation fish fryer, residence 12 Park Rd. Yeadon, father James Henry Naylor, occupation fish fryer. Ruby Ada Brayshaw, age 29, spinster, residence 6 Hawkhill Mount, Guiseley, father Albert Brayshaw, soldier.

In the November 2002 death index Ruby Ada Naylor, born 15 April 1909, Leeds Yorkshire, G21C register number, 0921G district, entry 98. [This now confirmed by a family member.]
Notes for Isaac (Spouse 1)
Birth certificate Manningham sub-district, Bradford district in the county of Bradford.
Twelfth July 1910 260 Girlington Road, Isaac Naylor, father James Henry Naylor, mother Susannah Challas Naylor, formerly Miller, father's occupation Dyer's Labourer.

In the 1911 census 260 Girlington Road, Bradford, Yorkshire.
Head James Henry Naylor, age 36, dyers labourer, worker, born New Farnley near Leeds.
Wife Susannah Challas Naylor, age 33, married 12 years, 3 children born alive all still living, born St. James Parish, Bradford.
Son Christopher Challas Naylor, age 12, school part time cotton roving frame doffer, worker, born St. James Parish, Bradford.
Daughter Edith Harriet Naylor, age 8, school, born St. James, Bradford.
Son Isaac Naylor, age under 9 months, born St. Philips Parish, Bradford.
The dwelling had 3 rooms.

From a family member, Isaac Naylor died/killed in action Crete Greece 15th April 1941 he was in the British Army (2nd World War)

From the Commonwealth War Graves Commission - Athen Memorial, Greece
Isaac Naylor, Driver, Service Number T/223977, died April 23, 1941 [Note the different date], age 30, Royal Army Service Corps 1 Res. M.T. Company, husband of Ruby Ada Naylor of Guiseley Yorkshire.