Birth
7 May 1904, Barnoldswick, Yorkshire
Death
May 1994, Ilkley, Yorkshire
Spouses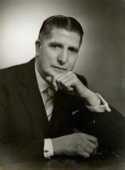 1
Percy Scatchard LOWE


, 1C2R
Birth
14 Feb 1899, Wigtownshire, Scotland
Marriage
16 Oct 1930, St Mary-Le-Gill Church, Barnoldswick
Notes for Nellie CRABTREE
Birth date and death date from Charles Lowe.

In the 1911 census 8 Ellis Street, Barnoldswick, Yorkshire
Head John Crabtree, age 37, carter, own account, born Salterforth, Yorkshire.
Wife Helen Miranda Crabtree, age 37, married 12 years, 4 children born alive all still living, household duties, born Colne, Lancashire.
Son Fred Crabtree, age 11, school, born Barnoldswick.
Daughter Edith Crabtree, age 9, school, born Barnoldswick.
Daughter Nellie Crabtree, age 7, school, born Barnoldswick.
Son Robert Leslie Crabtree, age 5, school, born Barnoldswick.
Notes for Percy Scatchard (Spouse 1)
In the 1901 census registration district Hereford, sub district Kentchurch, ecclesiastical parish St Mary, Lower Lodge [next to Kentchurch Rectory].
William Lowe, age 47, coachman, born Yorkshire.
Wife Jane Lowe, age 39, born Northumberland.
Son Percy Lowe, age 2, born Scotland.
Daughter Daisy Lowe age 9 born Yorkshire.

In the 1911 census living at 8 Lincoln Road, Earby via Colne, Skipton district, Barnoldswick subdistrict, Yorkshire West Riding.
William Scatchard Lowe, head, married, age 59, occupation is carter for a coal merchant, born East Keswick.
Wife Jane Lowe, age 49, born Park Village, Northumberland, married 25 years, had 5 children 2 are still living and 3 have died.
Daughter Daisy Louisa Lowe, single, age 19, cotton cop winder for a Cotton manufacturer, born Weston, Yorkshire.
Son Percy Scatchard Lowe, age 12, school, born Castle Wig, Wigtownshire [in Scotland].
The house had 5 rooms.

From his WWI Pension Records
Percy Scatchard Lowe
1/4 West Riding Regiment Regimental Number 39810 Private
Age last birthday 20, Posted for duty February 24, 1917 at Halifax
Former Occupation Bookkeeper, Cloth looker?
Disability Gun Shot Wound Arm and Thigh(left) on April 17, 1918
There is a stamped date above the date of discharge March 26, 1919
Permanently unfit
2nd Northern General Hospital, Leeds
His statement
Enlisted February 24, 1917, served in France and Belgium, from February 25, 1918 to April 17, 1918 as a Private, Infantry
He suffered a G.S.W. Left arm and left thigh, April 17, 1918. Muscular spiral nerve injury which requires wearing an elastic glove, hand and arm weak, unable to lift heavy weight; strain in arm causes it to ache.
Treated at the following hospitals
2nd Canadian Stationary, Boulogne
Bagthorpe Military Hospital, Nottingham
Arnot Hill Aux Hospital, Notingham
2nd N. G. Hospital, Leeds
last Employer Messrs. R. Nutter & Co. Grove Sheal?, Earby nr. Colne
Book keeper and Cloth looker

On his Casualty form - Active Service
Church of England, enlisted 2 3 17, [this contradicts the date above] at 18 years 10 days, Yorkshire Dragoons, Regimental Number 29506 (39810 is written above this number)
Posted to the Yorkshire Dragoons 24 2 17, Transferered 3rd W. R. Regt. 26 2 18
but underneath is says he was posted to the 1/4 West Riding Regt. Folkstone 26 2 18, joined the 3 or is it F nr? base depot, same day, joined battalion 4 3 18

end of Pension records

WWI Service Record
Address 8 Lincoln Rd Earby
Height 5 feet 8 1/2 inches
Next of Kin William Scatchard Lowe, 8 Lincoln Rd, father
Earned Silver War badge
receipts for Victory medal, War medal, Kings certificate, war badge

West Yorkshire electoral Records 1930
8 Lincoln Road, Township of Earby, West Ward
Percy Scatchard Lowe
William Scatchard Lowe

Parish Records St. Mary A. Gills?, Barnoldswick, Yorkshire
Marriage October 16, 1930 Percy Scatchard Lowe, age 31, bachelor, secretary, of 8 Lincoln Road, Earby, father William Scatchard Lowe, retired and Nellie Crabtree, age 26, spinster, telephone operator, of 18 Beech Street, Barnoldswick, father John Crabtree, carrier, after banns by J. H. Warner Vicar in the presence of Edith Crabtree and James Dodgson?

Border Crossings from Canada to US
St Albans, Vermont October 26, 1945
Arrived on the Queen Elizabeth which departed from Southampton October 22, 1945, Percy S. Lowe, age 46, manufacturer, race England, born Whithorn, Scotland, passport issued August 3, 1945 Bradford, last permanent address Earby, England.

From the death index October 1989 Percy Scatchard Lowe, born February 14, 1899, age 90, Bradford, Yorkshire, volume 4 page 16

From a descendent

Percy, who was born on 14 Feb 1899, lived as a small child lived in Haydon Bridge, Northumberland. He enlisted in WWI at the age of 15 (legal age was 17) and fought in France. Whilst fighting he suffered shrapnel injuries from an exploded bomb to his left side. The surgeons had to use cat nerves to re-attach severed ligaments in his arm. He was discharged from the army following the shrapnel wound to his left side. He gave his attire (uniform etc to the local museum later in life).

He built up a textile firm moving the entire firm to newly built (to his specification) in Gargrave (West Yorkshire), in 1934 – making wound dressings. It is understand the building housed several thousand looms. In 1965 after several years selling to many companies including Johnson & Johnson he sold the company in 1965 to General Johnson. Today J&J still make wound dressings on the site.

The noise from the machinery at the mill was, according to a family member, quote extraordinary. Percy was 'deaf as a post' later in life! He started the business off in Earby then moved to Gargrave in 1934. He took over a firm called Victoria Mills, after helping them out initially. In those days cotton & wool was traded in the 'cotton exchanges' based in Leeds & Bradford. Mill owners would either be present or send their senior buyers (dressed in bowler hats, three piece suits etc) to purchase stock for production. Percy was originally making general textiles but due to the impending war, around 1938, was told to put production to the war effort. He turned the mill round to making wound dressings.

Lived mainly in Earby & latterly Barnoldswick for twenty five years.

Met and later married Nellie Crabtree (on 16 Oct. 1930)

end of quotes from descendent.