Spouses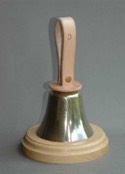 1
Henry SYMONDSON


, GGGG Grandfather
Burial
26 Dec 1842, Whitefield's Memorial Church, Camden, Middlesex
Occupation
Bell Founder, Brass Founder
Marriage
13 Oct 1800, St. Leonards, Shoreditch
Notes for Henry (Spouse 1)
Parish Records St. Leonard Shoreditch, Hackney, London
Henry Symmondson of this Parish Bachelor and Mary Thompson of this Parish Spinster Married in this Church by Banns this 13th day of October in the Year One Thousand Eight Hundred By me Joseph Rose, Curate This Marriage was Solemnized between Us Henry Symondson, Mary Thompson In the Presence of Harry [or possibly Mary] Williams, Mary Browne X her mark. [Note the difference between the spelling by the curate and Henry's signature.]

[Note at this same church is a burial for a Mary Symondson of Kingsland Road, age 54 years on April 21, 1799. Could this be a relative, possibly his mother?]

In the 1839 Robson's London and Birmingham Directory
Symondson H, mus bell founder, 20 Clipstone st.
Symondson H, cabinet piano forte mkr, 13 Robert st Hampstead rd

1839 Pigot's directory for London
Brass Founders
Henry Symondson, 1 Tottenham court road

In the 1841 census St Pancras civil parish, Ossulstone (Holborn Division) hundred, Middlesex, Tottenham sub district, Tottenham Court Road.
Henry Symondson, age 60, bellmaker, born in Middlesex.
James Symondson, age 20, bellmaker J. [Journeyman?], born Middlesex.
[Ages for adults in the 1841 census were rounded to the nearest 5 years.]

From Margaret Hiles
London England Non Conformist Registers
Henry Symmondson [as spelled], Buried 26 December 1842, Whitefield's Memorial Church, [Tottenham Court Road, St. Pancras] Camden Middlesex, age 67

From the Church Bells of Northamptonshire, Thomas North 1830 to 1884
He had an excellent tuner of bells — Henry Symondson — who speaking of him to my informant, Mr. Leonard Proctor of Bennington, Herts., said " that no man took so much pains and trouble as his master in turning out superior bells in perfect tune," and that " oftentimes he would rather lose by a job than have the reflection that he had sent out a bad bell."

From Musical Handbells by William Butler

Henry Symondson senior presumed to have died about 1843, although no death certificate has been traced. Phillip now ran the business. Phillip was born 1809.

Henry senior had five sons, two of whom, Phillip and James joined him in the Handbell business his eldest son, who was also called Henry inherited his Father's acute hearing, he became a Piano Tuner.

Henry senior married Mary Thompson in 1800 at St Leonard's Shoreditch, and in the next 19 years Mary had eight children, all of whom were baptized at St Giles-in-The Fields. His production of Handbells was a secondary occupation to his work in orchestras and the theatre as an accomplished violinist, in 1848 Henry junior died of consumption five years later James followed him to an early grave, he was only thirty- three. Phillip became mentally ill and was certified insane and confined to St Pancras Workhouse he died here in 1863 aged 54, bringing to an end a firm that had helped to revolutionized the production of Hand Bells.

The following note is from documents courtesy of Margaret Hiles. It does not pertain directly to this Henry Symondson but might to an ancestor possibly grandfather or great uncle.
Marriages and Baptism's from Ashwell's Notebook of the Fleet Notebooks performed according to the Rules of the Fleet, London from February to March 1744/45.
February 17, 1744 Henry Symondson, Taylor Cooper Lassmaker[ possibly Lathmaker] of St. Mary, May Robinson, St. Mary, spinster, Mrs Crookes.