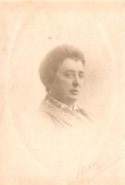 Birth
4 Nov 1869, Dar El Baida, Morocco
Death
3 Nov 1946, Bideford, Devon
Spouses
Birth
27 Jul 1869, Fecamp, Normandy, France
Death
7 Mar 1939, Rapallo, Liguria, Italy
Marriage
27 Feb 1902, HM Consulate And Church Of Holy Trinity, Corfu
Notes for Jenny Rosealie DUPUIS
Name birth year, marriage, and death date from de Garston/Dupuis/Houstoun/McCalmont Family Tree.

Birth certificate - From Lisa de Garston's Family Tree
British Vice Consul Dar-El-Baida, Morocco
November 4, 1869 Dar-El-Baida, Jane Rose Dupuis, father Hanmer Lewis Dupuis, mother Pauline Anne Sanchez, father is British Vice Consul, signed H. Lewis Dupuis, V. Consul. [Notice the name is not quite the same as used elsewhere]

Marriage from Lisa de Garston's Family Tree
British Consul's District of The Ionian Islands - Corfu
Marriage solemnized at Corfu in the British Consulate
February 27, 1902 Edward Mervyn de Garston, age 32, British Vice Consul Palverno?, bachelor, of Villa Dupuis Castrades Corfu, father Norman de Garston Doctor of Divinity and Jennie Rosalie Dupuis, age 30 spinster of Villa Dupuis, father Hamner Lewis Dupuis, H. British Consul (retired), married in the British Consul, civil contract by notice, by C A Blakeney. In the presence of H. Lewis Dupuis, J. Poole [or Toole could this be her brother in law J. A. Toole?]] and D C S Molivadas?

National Probate Calendar
Jenny Rosalie de Garston of Ivy Bank The Street Rustington Sussex widow died 3 November 1946 Probate London 26 April 1947 to Lloyds Bank Limited. Effects 3873 pounds.
Notes for Edward Mervyn (Spouse 1)
Name, birth date, occupation and death date from de Garston/Dupuis/Houstoun/McCalmont Family Tree.

In the New York passenger lists arrival February 17, 1912 New York, Prina Maurits
Edward Mervyn de Garston, age 40 years 11 months, British Con. ???, last residence Port au Prince Haiti, final destination Genna Italy.
Jenny Rosalee de Garston, age 35? years 6 months.
Aubrey Reginald de Garston, age 7.
Eveline Rosie de Garston, age 6.
Norman Lockley de Garston, age 5.
Lancelot Cyril de Garston, age 3

London Gazette April 6, 1915
Foreign Office February 20, 1915 The King has bee graciously pleased to appoint - Edward Mervyn de Garston, Esq., to be His Majesty's Consul for the Island of Porto Rico, to reside at San Juan.

UK Incoming Passenger Lists
Arrived April 25 1915 at Plymouth, England, on the Hollandia, embarked Bahia (Buenos Aires, Argentina),
Edward Mervyn de Garston, first class, consul, age 45, last permanaent residence Brasil, address Lancaster Road, Notting Hill, London, c/o Foreign Office

National Probate Calendar
Edward Mervyn de Garston of Villino Gori Corso Colombo Rapallo Italy died 7 March 1939 Probate london 9 May 1939 to Jennie Rosalie de Garston widow. Effects 1348 pounds 12 shillings