Spouses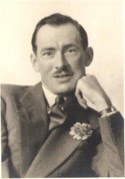 1
Lancelot Cyril de GARSTON


, Half 3C2R
Birth
26 Sep 1908, San Domingo City, Haiti
Death
1992, Lugano, Ticino, Switzerland
Occupation
Motor Salesman, Vice Consul, Executive, Farmer
Notes for Josefa BERCKEMEYER
Name birth year, marriage, death year and location from de Garston/Dupuis/Houstoun/McCalmont Family Tree.
Notes for Lancelot Cyril (Spouse 1)
OBE

Name, birth year, marriage, award and death date from de Garston/Dupuis/Houstoun/McCalmont Family Tree.

In the New York passenger lists arrival February 17, 1912 New York, Prina Maurits
Edward Mervyn de Garston, age 40 years 11 months, British Con. ???, last residence Port au Prince Haiti, final destination Genna Italy.
Jenny Rosalee de Garston, age 35? years 6 months.
Aubrey Reginald de Garston, age 7.
Eveline Rosie de Garston, age 6.
Norman Lockley de Garston, age 5.
Lancelot Cyril de Garston, age 3.

Royal Aviators Certificate
Lancelot Cyril de Garston
125 Park Road, Hendon Central, London NW4
Born September 26, 1908 San Domongo City, Haiti, West Indies
Nationality British
Profession Motor Salesman
Certificate taken on DeHaviland Moth 60 X X 75 hp Cirrus II
at Herts and Essex Aeroplane Club
October 11, 1931

UK Incoming Passenger Lists
Arrived October 14, 1957, Southampton, on the Queen Elizabeth, Lancelot De Garston, married, born 26.9.08, address R.A.C. London, farmer, passport London, country of last permanent residence Canada, country of future residence England.