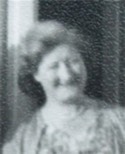 Death
1991, Eastbourne, Sussex, England
Spouses

1
Sidney Albert Edward SYMONDSON


, 1C2R
Birth
3 Aug 1901, Pimlico, London
Notes for Ivy Madeline PREECE
In the July to September 1909 birth index Ivy Madeline Preece, Fulham, London, volume 1a, page 340.

In the 1911 census 13 Oxberry Avenue, Fulham, London.
Head Edward Preece, age 28, caterers assistant, worker, born Pimlico, London.
Wife Madeline Preece, age 29, married 2 years, 1 child born alive, born Weymouth, Dorset.
Daughter Ivy Preece, age 1, born Fulham.

In the July 1991 death index, Ivy Madeline Symondson, Eastbourne, Sussex, volume 18, page 405, born August 29, 1909.
Notes for Sidney Albert Edward (Spouse 1)
In the july to September 1901 birth index Sidney Albert E. Symondson, St. George Hanover Square district. London Middlesex.

In the 1911 census St George district, Belgrave subdistrict, London, parish St. George, Hanover Square, 44 Cumberland Street.
Henry John Symondson, head, married, age 50, Army Pensioner musician, born Hounslow.
Wife Amy Symondson, married 27 years, age 48, 16 children born alive, 10 still living, born Shoreditch.
Daughter Ruby Clare Symondson, single, age 24, feather curler, born Pimlico.
Daughter Gladys Ivy Symondson, single, age 22, sewing machinist manttle?, born Pimlico.
Son Charles Henry Symondson, single, age 20, inland revenue, born Pimlico.
Daughter Barbara Amy Symondson, single, age 19, born Pimlico.
Son Percy John Symondson, single, age 18, billiard marker, born Pimlico.
Daughter Norah Violet Symondson, age 16, born Pimlico.
Son Henry Francis Symondson, age 14, school, born Pimlico.
Son Ernest Arthur age 12, school, born Pimlico.
Son Sidney Albert Symondson age 9, born Pimlico.
Daughter Ethel Marie, age 7, born Pimlico. Their house had 7 rooms.

In the July to September 1932 marriage index Sidney A. E. Symondson, spouse Ivy M. Preece, Willesden district, Middlesex, volume 3a, page 864.

London Electoral Registers 1936, 1950
83 West Way, Edgware, Hendon, Barnet, Middlesex
Ivy Madeline Symondson
Sidney Albert Edward Symondson

In the August 1986 death index Sidney Albert E. Symondson, born August 3, 1901. age 84, Eastbourne district, Sussex, volume 18, page 526. volume 1a, page 458