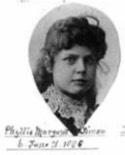 Birth
21 May 1886, Nottingham, Nottinghamshire, England
Death
7 Oct 1958, Scarborough
Spouses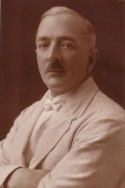 1
Robert Edward SCATCHARD


, 2C3R
Birth
1876, Boston Spa, Yorkshire
Death
12 Mar 1965, Ormskirk, Lancashire
Marriage
24 Jul 1914, Shanghai, China
Notes for Phyllis Margaret SIMON
Birth date from the the AJ Petrie Tree on ancestry.co.uk by Angus Petrie. [A picture from the site says she was born on June 21 not May 21.]

In the July to September 1885 birth index Phyllis Margaret Simon, Nottingham, Nottinghamshire, volume 7b, page 258.

National Probate Calendar
Phyllis Margaret Scatchard of Holly Croft Scalby Scarborough (Wife of Robert Edward Scatchard) died 7 October 1958 at The Hospital Scarborough Probate York 25 November 1958 to the said Robert Edward Scatchard of no occupation Edward David Scatchard [son] fruit importer and Nancy Phyliss Braithwaite (Wife of John Vernon Braithwaite). Effects 24044 pounds. Resealed Victoria (Hong Kong) 16 March 1959.
Notes for Robert Edward (Spouse 1)
In the October to December 1876 birth index Robert Edward Scatchard, Wetherby, Yorkshire West Riding, Volume 9a, page 120.

In the 1881 census Main Road Clifford cum Boston Yorkshire.
Head, Thomas E. Scatchard, age 36, General Practitioner, born Boston Spa, Yorkshire.
Wife Martha Scatchard, age 33, born Masham, Yorkshire.
Son James R. Scatchard, age 7, scholar born Boston Spa.
Son Robert E. Scatchard, age 4, born Boston Spa.
Son Thomas Scatchard, age 2, born Boston Spa.

In the 1891 census District Royal Medical Benevolent College, Epsom, Surrey.
Pupil James Percival Scatchard, age 17, student, born Boston Spa, Yorkshire.
Pupil Robert Edward Scatchard, age 14, Born Boston Spa, Yorkshire.
Pupil Thomas Scatchard, age 12, student, born Boston Spa, Yorkshire.
[The Headmaster is Thomas Northmore Hart-Smith, age 36, Clerk in Holy Orders, M.A. Oxford.

UK Military Campaign and Medal Rolls
Roll of Indivuals entitled to the South Africa Medal and Clasps, April 1, 1901
11th Company, 3rd Imperial Yeomanry
Regimental Number 2038 Private R. E. Scatchard, Clasps Wittebergen, Cape Colony, Orange Free State [there is a notation I can't decipher under Orange Free State], Transvaal. There is a note on his and three others on the page that the Orange Free State Clasp was returned for some reason.

Foreign Registers and Returns, Shanghai, China, Marriages
July 24, 1914 Robert Edward Scatchard, age 37, bachelor, Surveyor, residence Shanghai, father Thomas Edward Scatchard, doctor and
Phyllis Margaret Simon, age 29, spinster, teacher, residence Shanghai, father Richard Simon, engineer.
By Alfred J. Walker, M.A., Dean
In the presence of Charles H. Godfrey and T. E. Skidmore

UK Incoming Passenger Lists
Departed Shanghai, arrived Plymouth on the Malwa April 9, 1925
Robert Edward Scatchard, age 48, proposed address 23 Herbert Road, Nottingham, surveyor, last permanent address China.
Wife Phyllis Margaret Scatchard, age 39.
Nancy Scatchard, age 7 1/2.
Hazel Mary Scatchard, age 2 1/2
Edward David, age 5 months

UK Incoming Passenger Lists
Departed Shanghai on the Rawalpindi arrived May 1, 1931 at London,
Robert Scatchard, proposed address "Woodside", Boston Spa, Yorkshire, 1st class, surveyor, age 564, country of last permanent address China
Phyllis Scatchard, household duties, age 45
Nancy Scatchard school child, age 13
Hazel Scatchard, school child, age 8
Edward Scatchard, school child, age 6

In the March 1965 death index Robert E. Scatchard, age 88, Ormskirk, Lancashire, volume 10f, page 215.

National Probate Calendar
Robert Edward Scatchard of Swan Farm Aughton near Ormskirk Lancashire died 12 March 1965 Probate York 7 May 1965 to Edward David Scatchard [son] company director and Hazel Mary Vincent [daughter] married woman. 17337 pounds