Birth
abt 1807, Leeds, Yorkshire, England
Spouses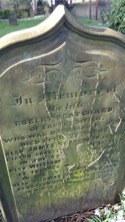 1
James SCATCHARD


, GGGG Uncle
Birth
24 May 1804, East Keswick, Yorkshire, England
Baptism
22 Jul 1804, Harewood, Ripon, Yorkshire, England
Death
17 Jun 1880, East Keswick, Yorkshire, England
Burial
19 Jun 1880, Harewood, Ripon, Yorkshire, England
Occupation
Farmer, Agricultural Labourer
Notes for Catharine Russell WATSON
In the 1841 census Garden Street, Holbeck, Leeds, Yorkshire.
Joseph Atha, age 35, joiner, born in Yorkshire.
Catherine Atha, age 30, born Yorkshire.
Sarah Atha, age 13, born Yorkshire. Mary Atha, age 11, born Yorkshire.
Son John Atha, age 9, born Yorkshire.
William Atha, age 4, born Yorkshire.
Thomas Atha, age 2, born Yorkshire.

Parish records St. Peter, Leeds, Yorkshire
Marriage Joseph Atha of this Parish Joiner and Catharine Russell Watson of this parish Spinster were married in this Church by Banns this twelfth day of March in the Year One thousand eight hundred and twenty seven by me William Williamson, Curate, Joseph Atha C. R. Watson's mark in the presence of Richard Stovey? and Robert Hargrove.

In the 1851 census 36 William Street, Hunslet, Yorkshire.
Head Catherine Atha, widow, age 43, formerly Innkeeper, born Leeds, Yorkshire.
Son William H. Atha, age 15, scholar, born Leeds.
Son Thomas Atha, age 12. scholar, born Leeds.
Son Joseph Atha, age 9, scholar, born Leeds. 1 servant.

In the July to September 1855 death index Catherine Scatchard, Hunslet, Yorkshire, volume 9b, page 162.
Notes for James (Spouse 1)
The IGI lists a James Scatchard born May 24, 1804, christened July 22, 1804, Harewood, Yorkshire, father John Scatchard, mother Patience.

In the 1841 census civil parish Bardsey, Skyrack lower division hundred, Tadcaster district, Bramham sub district.
James Scatchard, age 35, farmer. born in the county. 3 servants.

In the 1851 census civil parish of Bardsey Cum Rigton, Yorkshire, registration district Tadcaster, sub district Appleton living at Rigton Grange.
James Scatchard, unmarried, age 44, farmer of 142 acres employing 1 labourer, born at East Keswick.
Sister, Betsy Scatchard, age 53, unmarried, born at East Keswick. and 3 servants.

Parish Records St Peter's Church, Leeds, Yorkshire
Marriage July 26, 1851 James Scatchard, age 46, bachelor, farmer, residence Bardsey, father John Scatchard, farmer and Catherine Atha, age 44, widow, residence Woodhouse Lane, father William Watson, Smith, by licence, by J. Palmes?, Assistant Curate, signed James Scatchard and Catherine Atha's mark, in the presence of James Midgley and Lydia Bratley's mark.

In the 1861 census Swillington, Yorkshire.
Lodger James Scatchard, widower, age 44, agricultural labourer, born [East] Keswick, Yorkshire.
He is lodging with Thomas and Catharine Brook their son and another lodger. All the men are agricultural labourers.

In the 1871 census East Keswick, Wetherby district, Boston subdistrict.
James Scatchard, visitor, widower, age 66, agricultural labourer, born East Keswick.
Head Elizabeth Parker, widow, age 45, farmer's widow, born East Keswick.
Sarah's children Sarah and Henry.

IN the April to June 1880 death index James Scatchard, age 76m Wetherby, Yorkshire West Riding, volume 9a, page 101.

Scatchard of East Keswick
James Scatchard late of Rigton Grange died 17th [of what month? Must be June to December to put him in his 77th year] 1880. In the 77th year of his age.

National Probate Calendar
7 July 1880 Administration of the Personal Estate of James Scatchard late of East Keswick in the County of York Farmer a Widower who died 17 June 1880 at East Keswick was granted at Wakefield to Hannah Scatchard of East Keswick Spinster the Sister and only Next of Kin. Personal Estate under 500 pounds.

Parish Records Harewood
Burial James Scatchard, June 19, 1880, East Keswick, age 76.