Spouses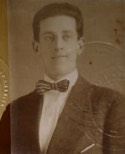 Birth
12 Oct 1886, New York, New York
Notes for Grace Elise KIRALFY
Name from www.kiralfy.net by Allegra Azulay
This site says Harold and Grace were cousins.

National Probate Calendar
Grace Elise Kiralfy of 34 Addison-grove Bedford Park London W.4 (wife of Harold Victor Kiralfy) died 29 April 1956 Probate London 2 November 1956 to Elise Victoria Marie Kiralfy spinster and Victor Arthur Kiralfy building society manager. Effects 8777 pounds 10 shillings 1 pence.
Notes for Harold Victor (Spouse 1)
US Passport Application
August 12, 1915 Harold V. Kiralfy a citizen of the United States applied at the Embassy in London for an emergency passport for himself. Born New York City, New York on October 12 1886, his father is a naturalized British Subject and resides at Cromwell Road S.W., his purpose is residence, his permanent residence is London, England, occupation theatrical, last left the US on April 2, 1914, he temporally sojourning at 116 Holland Road, Kensington W., he intends to return to the US in one year, he plans to visit the British isles purpose residence. Age 28, height 5 feet 7 inches. His mother Marie Kiralfy supports his affidavit.

National Probate Calendar
Harold Victor Kiralfy of 3 Northcroft Terrace Ealing Middlesex died 20 December 1963 at King Edward Hospital Ealing Administration London 9 March 1964 to Victor Arthur Kiralfy building society official and Harold Graham Kiralfy wool representative. 691 pounds.