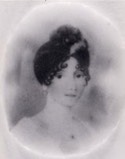 Birth
10 Jun 1813, Calcutta, Bengal, India
Death
16 Nov 1847, Fort William, Calcutta, India
Burial
17 Nov 1847, Fort William, Calcutta, India
Spouses
Birth
1800, Serampore, West Bengal, India
Death
25 Oct 1836, Calcutta, Bengal, India
Occupation
Attorney-At-Law
Marriage
8 May 1830, Calcutta, Bengal, India
Birth
1 Jan 1822, Orton-on-the-Hill, Leicestershire, England
Death
24 May 1846, Park Street, Calcutta, India
Marriage
15 Nov 1845, Old Church, Fort William, Calcutta, India
Notes for Sarah Ann Gibson Eliza JONES
Name birth, death, burial and marriage information from Chris Rack.

Marriages at Calcutta, Cathedral
May 8, 1830
John Fountain, Attorney at Law, Calcutta, Bachelor, of age and
Sarah Ann Gibson Elliza James [I thought it was supposed to be Jones] of Calcutta, Spinster, under age
Signatures of Parents or next Friends, George Chisholm, Calcutta
In the presence of Jo. B. Marshland and George H. Ford.
by license
by Thomas Robertson, Junior Presidency Chaplain

Marriages at the Old Church, Fort William, Calcutta, Bengal
November 15, 1845
Beaumont Joseph Dixie, of age, Bachelor, Gentleman, of Calcutta, father A. B. C. Dixie and
Sarah Ann Gibson Eliza Fountain, of age, Widow, of Calcutta, father Thomas Smith [I can't decipher the last name, possibly Jones]
by license
Witnesses Present: R Plummer, Jas. Markham, S. Dunzen?
by T. Dealtry, Archdeacon

Burials at Calcutta Fort William in Bengal
died November 16, 1847 Ann Gibson Dixie, age 34 years, widow of B. J. Dixie, Esquire, buried November 17, 1847, Park Street, buried by Arthur Hamilton, Junior Chaplain of St, John's

National Probate Calendar
November 7, 1870 Letters of Administration of the Personal estate and effects of Sarah Ann Gibson Eliza Dixie late of Calcutta in India Widow deceased who died 16 November 1847 at Calcutta aforesaid were granted at the Principal Registry under the usual Limitations to George Cox Bompas of 4 Great-Winchester-street-buildings in the City of London Solicitor the lawful Attorney of Robert George Fountain the Son and one of the Next of Kin of the said Deceased now residing in New Zealand he the said George Cox Bompas having first been sworn. Effects under 1500 pounds. Resworn November 1875 under 100 pounds.
Notes for John (Spouse 1)
Name, birth, marriage and death information from Chris Rack. Also
Sacred to the memory of Mr. John Fountain, who departed this life on the 25th day of Oct. 1836, aged 36 years. This is a small token of conjugal affection. Erected by his affectionate wife and children. "Prepare to meet thy God."
Mission Burial Ground, Calcutta
Notes for Robert St. Leger (Spouse 2)
Name and the following courtesy Chris Rack.
The Bengal Directory and Annual register 1838
Calcutta Sea Custom House
Office, No. 8 Tank Square
Preventative Officers 4th Class
R. Kiernan
Also from the same publication
Inhabitants
Robert Kiernan, 10 Park Street
Notes for Beaumont Joseph (Spouse 3)
Name birth, death and marriage information from Chris Rack.