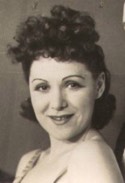 Birth
5 May 1901, Fairhaven, Blackpool, Lancashire, England
Death
14 Oct 1990, Brighton, Sussex, England
Spouses

1
Alfred Victor SYMONDSON


, 1C2R
Birth
20 Feb 1898, Hounslow, Middlesex, England
Marriage
1956, Leeds, Yorkshire, England
Notes for Amy Ada Beatrice GRIMSHAW
Stage name
Betty Jumel.
In the April to June 1901 birth index
Amy Ada B. Grimshaw
, Fylde, Lancashire, volume 8e, page 635.
London electoral Registers 1946
89 Vicarage Road
Ernest W. Arnley [this is his stage name, Alfred's brother]
Constance W. Barge [Alfred's sister]
Garnet L. Smith [Alfred's nephew, son of sister Augusta]
Amy B. H. Symondson
Alfred V. Symondson
Frederick Thornton [Constance's son in law]
Phyllis M. Thornton [Constance's daughter]
London Electoral Registers 1950
89 Vicarage Road, Willesden West, Willesden
Constance W. Barge [sister of deceased husband]
Kenneth S. Graham [niece's husband]
Nicea D. Graham [niece of Amy's deceased husband]
Amy B. H. Symondson
UK Incoming Passenger Lists
Departed Montreal, Quebec, arrived November 24, 1955 at Liverpool on the Ivernia,
Amy Symondson
, born May 5, 1901, widow, address in UK 6 Carleton Mansions, Maida Vale, london, W9, occupation theatrical, passport Great Britain, country of permanent residence England.
In the January to March 1956 marriage index
Amy B. H. Symondson
and
Giuseppe Castegnoli,
Leeds, Yorkshire, volume 2c, page 753.
There is a
Betty Jumel
listed in the 1980 British Phone Books 47a Wilbury Road, Hove, Brighton, Sussex.
October 1990 death index
Amy Beatrice H. [probably should be an A and the middle names reversed] Castagnoli
, born May 5 1901, age 89, Brighton, Sussex, volume 18, page 108.
According to Imdb.com
Betty Jume
l
Born 1901 in Blackpool, Lancashire. Died October 14, 1990, age 88, in U.K..
On stage she was the regular comedy partner of Norman Evans. She'd play the man, he' play the woman. She appeared in the films "Cup-Tie Honeymoon" (1948), "Under New Management" (1946), and "Demobbed" (1946). She performed in the pantomime, "Babe In The Wood," at the Princes Theatre in London, England.
From The Stage July 15, 2004
http://www.thestage.co.uk/features/feature.php/3176/going-for-a-bundle
Bubbly comedienne
Betty Jumel
is rarely mentioned on any list of variety legends. But, argues Terry Hallett, the diminutive yet fearless supporting star deserves a place among the greats
Norman Evans, Nat Jackley and Cyril Fletcher are names that have variety buffs exchanging fond memories of a bygone era, yet few mention Betty Jumel, an eccentric and bubbly comedienne who entertained audiences alongside these comedy greats during an illustrious career on stage spanning 50 years. Tiny and full of bounce, Jumel never sought the limelight but talent and hard work ensured continuous employment throughout her versatile career.
Born in 1901 at Fairhaven, near Blackpool, Jumel grew up as part of a variety act, first appearing on stage aged ten with her father Harold, who taught her singing, dancing and ventriloquism. After touring with her two brothers and a sister as The Four Jumels, when they broke up just before the First World War she rejoined her father on stage to form a successful double act. He played piano while she sang and danced but that ended when her father enlisted. Jumel carried on as a soubrette, appearing mainly in northern end of pier shows.
Billed as 'A bundle of fun', Jumel began to create her own comedy material, using her natural ability to appear physically absurd. Opera singers, ballerinas and concert pianists received the Jumel treatment, to provide audiences with top quality visual humour. A dedicated, hardworking professional of the old school, she would occasionally make four separate appearances in one evening.
Most of her working life was spent on the road, usually appearing in pantomimes at Christmas and in either summer shows or concert parties during the summer months. Her first West End appearance was in 1933, when she joined Albert Burdon and Dan Leno Jnr in the Lyceum revue Good Company.
Pantomime was one of Jumel's specialities and after touring Egypt with ENSA during the Second World War, in 1944 and 45 she appeared with Evans in the Leeds Theatre Royal production of Humpty Dumpty, which set a record with its 22-week run from Christmas Eve to Whitsun. She also became one of the few successful female Dames, notably in 1948 as Dame Trot in Babes in the Wood at London's Princes Theatre. She later starred alongside Terry-Thomas at the Palladium in Humpty Dumpty.
Many of Jumel's summer shows were as the comedienne in productions staged by Fletcher and his wife, Betty Astell. In his 1978 memoir Nice One Cyril, Fletcher pays tribute to Jumel's professionalism, mentioning her meticulous approach to work, diplomacy with other cast members and neatness on and off stage. She appeared for the Fletchers in the forties and fifties, with the Summer Masquerade show at Torquay that was featured on television in the late forties for six consecutive Sundays. Making his first television appearances as second comedian was Harry Secombe.
In his book, Fletcher recounts several incidents involving Jumel, including one at the Lyceum, Edinburgh, when she was well into her sixties. In a hunting scene and dressed in full hunting pink, she sat astride a panto horse with two stage hands inside. Unfortunately, the leading stage hand accidentally toppled forward so that Betty fell over the horse's head and landed onto her face, breaking her nose. With blood pouring down her face she ad-libbed some comment to complete the sketch. That evening she bravely did her act, had her nose set in hospital the next day and never missed a performance.
Jumel also featured in several films in the forties, including Demobbed in 1944 with Jackley, Evans and Dan Young and Under New Management with the same three male stars in 1946. In 1948 Jumel appeared in the first film to be made at the new Mancunian Studio, Manchester, called Cup-Tie Honeymoon. The cast of this picture included Sandy Powell, Young and Pat Pilkington, later known as Pat Phoenix of Coronation Street fame.
With the gangly comedian Jackley, Betty was at her best in a funny sketch called At the Ball. Visually, the scene created was hilarious, as his height contrasted sharply with her diminutive figure, clad in a tightly fitted ball gown split up one side to reveal her skinny legs.
Radio helped Jumel's career immensely, particularly her appearances in several fondly remembered series of Good Evans and Over the Garden Wall with the popular Evans. She went on to become an important part of Evans' touring theatre revues, with their memorable sketch featuring Jumel as a tiny tenor and Evans as a huge soprano.
Offstage, Jumel first married
Victor, one of the Arnley Brothers
, a twenties variety act, and some years after his death she married
Bill Castagnoli
, an Italian acrobat, who was also to pre-decease her. She had one daughter, Georgina, from her first marriage, who became an actress.
Betty died on October 14, 1990, aged 89, and with her passing we lost one of the last greats of the old variety halls.
end of quote
See Wikipedia
http://en.wikipedia.org/wiki/Betty_Jumel
Notes for Alfred Victor (Spouse 1)
Stage name Vic Arnley.

In the 1901 census living at 58 Warleigh Road Civil Parish Preston, Ecclesiastical parish of St Saviour, Brighton Sussex. Registration District Steyning, Sub registration district Shoreham.
Sydney F. Symondson age 38, born at Hounslow, Middlesex occupation coal merchant (employer).
Wife Wilhelmina age 36, born at Bedford Square, London.
Daughter Gertrude age 15, born at Hounslow, Middlesex,
Son Sidney age 13, born at Hounslow,
Daughter Wilhelmina age 12 born at Hounslow,
Son Henry age 11 born at Hounslow,
Daughter Barbara age 9 born at Hounslow,
Son Robert age 7 born at Hounslow,
Son Victor age 4 born at Hounslow,
Son Lionel age 2 born at Brighton, Sussex.
They have 1 domestic servant. Visiting with them are his father Henry Symondson, mother Barbara Symondson, his brother Herbert and his family.

London School Admissions Plough Road School, Wandsworth
May 22, 1907 Robert Symondson, father Sydney, 20 Huntsmoor Road, born Febraury 4, 1895 [should be 1894], former school York Place Brighton, left September 23, 1908
Also May 22, 1907 Victor Symondson, parent Sydney, 20 Huntsmoor Road, born February 20, 1898, former school York Place Brighton, left July 24, 1911.

In the 1911 census 1 St. Johns Hill Grove, Battersea SW, London
Sydney F. Simmonds, age 48, musician conductor, associated with a roller skating rink, employer, born Hounslow.
Wife Wilhelmina Simmonds, married 26 years, age 48, 10 children born alive all still living, born Holborn.
Daughter Constance Simmonds, single, age 22, musician roller skating rink, worker, born Hounslow. Son Robert Simmonds, single, age 17, Electrician Operator at Cinematograph Theatre, worker, born Hounslow.
Son Victor Simmonds, age 14, born Hounslow.
Son Lionel Simmonds, age 11, born Brighton, Sussex.
Daughter Phyllis Simmonds, age 9, born Brighton.
Son Ernest Simmonds, age 7, born Brighton.
The house had 7 rooms.
[Note most other family members are using the name Symondson in this census.]

In the 1919 Electoral Registers at 29 Solent Road, Hampstead and Holborn, Camden, London
Alfred Victor Symondson
Lionel William Symondson
Robert Alberto Symondson

In the April to June 1926 marriage index Alfred V. Symondson and Amy B. H. Grimshaw, Preston district Lancashire, volume 8e, page 1278.

UK Outward Passenger Lists
Departed July 20, 1929, London, on the Orama, destination Sydney Australia. Mr. E. Symondson, 89 Vicarage Road, Willesden NW 10, 3rd class, theatrical, age 25, intended future permanent address Australia. Mr. V. Symondson, age 31, theatrical, same address etc.

Canadian Passenger Lists
Departed Sydney, Australia, arrived Victoria, British Columbia on the S.S. Niagara April 24, 1930
Alfred V. Symondson known as Alfred V. Arnley, relationship brother,age 33?, place of birth London England, not in Canada before, occupation theatrical, enroute to London via Canada and U.S.A., nearest relative mother Mrs. W. Symondson, 96? Brownesbury Rivers, London W, England
Ernest W. Symondson, known as Ernest W. Arnley, age 26, single born Brighton, England.

Border Crossings from Canada to United States, May 6, 1930 Alfred Victor Symondson (known as Arnley), birth place London England , age 33, occupation Theatrical, nearest relative, mother Mrs. W. Symondson at 92 Bronesbury Rivers, London. He landed in Vancouver BC. on April 25, 1930, on the SS Niagara, came from Auckland NZ. Height 5 ' 7", blue eyes. He was accompanied by brother Earnest W. Symondson (known as Arnley) age 36, occupation Theatrical.

London Electoral registers 1933
89 Vicarage Road, Willesden West
Beatrice Amy Symondson
Victor Alfred Symondson

UK Incoming Passenger Lists
Departed Port Said, arrived February 21, 1944 in Liverpool, England on the Stirling Castle, first class Alfred V. Symondson, age 46, proposed address 59 Vicarage Road, Willesden N.W. 10 [London], Occupation E.N.S.A. [Entertainments National Service Association], country of last permanent residence England.
[E.N.S.A. was an organization set up to provide entertainment for British Armed forces personnel in WWII.]

According to www.imdb.com he was born Alfred Victor Symondson, his stage name was Vic Arnley, alternatively Victor Arnley, appeared in 2 films in 1948 "Cup-Tie Honeymoon" and "Holidays with pay". Older brother of Ernest Arnley. He was the father of actress Georgina Arnley.

In the January to March 1949 death index, Alfred V. Symondson, age 51, Hampstead, London, volume 5c, page 1023.

National Probate Calendar
Alfred Victor Symondson of 89 Vicarage-road Willesden Middlesex died 28 January 1949 at 11 Lyndhurst-gardens Hampstead Middlesex Administration Manchester 20 June 1949 Amy Ada Beatrice Symondson widow. Effects 807 pounds 18 shillings 10 pence.