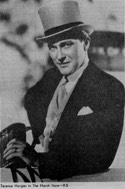 Birth
8 Dec 1921, Lewisham, London, England
Death
25 Aug 2005, Brighton, Sussex, England
Spouses
1
(Private)

, 2C1R
Notes for Terence Ivan Grant MORGAN
In the January to March 1922 birth index Terrance [as spelled] I. G. Morgan, mother's maiden name Grant, Lewisham, London, volume 1d, page 1945

In the August 2005 death index Terence Ivan G. Morgan, born December 8, 1921, age 83, Brighton, Sussex, register A16B, district 452/1A, entry 15.

The Telegraph August 31, 2005

Terence Morgan, who died on August 25 aged 83, was a familiar figure on stage and screen in the 1940s and 1950s after being discovered by Laurence Olivier; later he became well known to television viewers for his role as Sir Francis Drake.
A handsome man, he first came to notice as Laertes to Olivier's Hamlet in the 1948 screen version of the play - his skilled swordsmanship was a particular feature of his performance.
He went on to specialise in playing the ne'er do well, the plausible louse or the gang-leader, and was given some dramatic exits: Dance Little Lady (1954) saw him fry in the conflagration at the end; The Scamp (1957) had him suffer a fatal fall down a flight of stairs; another fall had dispatched him in Turn the Key Softly (1953); and in Forbidden Cargo (1954), he attempted to drive across Tower Bridge as it was opening and drowned in the Thames.
Terence Morgan was born at Lewisham, south-east London, on December 8 1921. On leaving school he earned £1 a week as a clerk in an insurance firm before winning a scholarship to Rada. He served in the Army for two years before being invalided out.
His first professional appearance was at the Theatre Royal, Windsor, in The Astonished Ostrich. He later played in repertory at Letchworth.
It was when Olivier was impressed by his performance in the West End in There Shall Be No Night that his career began to take off - Olivier gave Morgan the role of Cain in Thornton Wilder's Skin of Our Teeth, with Vivien Leigh, in 1945.
Morgan spent a season with the Oliviers at the New Theatre, playing parts in Sheridan and Shakespeare. He then toured Australia and New Zealand with the company.
After appearing in the film version of Hamlet he did a further season at the Old Vic. Having decided to move into films, he played the hero in Shadow of the Past (1950). He was then a dashing St Gerard in Captain Horatio Hornblower RN (1951).
Having returned to the stage in Frou Frou (New Lindsay Theatre) and The Martin's Nest (Westminster), Morgan embarked on his career as a charismatic bounder. In Encore (1951) he was Syd Cotman, who forced his frail wife nightly to dive from a great height into shallow water on the French Riviera; he was the insensitive father in Mandy (1952) and a flashy rotter in Street Corner (1953).
He was permitted a few sympathetic roles, such as in Always a Bride and The Steel Key, both in 1953; he rescued Trilby from Svengali's clutches in 1954; and was the impoverished Irish baronet in The March Hare (1955), a whimsical story about horse-racing.
The English Stage Company claimed Morgan for The Country Wife at the Adelphi in 1957, and a year later he was in the two-hander Double Cross at the Duchess, with Dulcie Gray.
Morgan starred as Sir Francis Drake in the television series of the same name, screened in 1961-62; Drake's ship, Golden Hind, was a converted former motor fishing vessel which had been used during the Second World War as a harbour launch. He later appeared in films such as The Shakedown (1959), Piccadilly Third Stop (1960) and The Penthouse (1967).
Thereafter parts were harder to come by; but in 1986 he gave a haunting performance on television as an ageing, homosexual matinée idol being blackmailed in an episode of King and Castle.
Terence Morgan was married to the actress Georgina Jumel for 58 years; she and their daughter survive him.

end of quote

From another source.

A sea-lover who had lived in Hove, East Sussex, since 1958, Morgan ran a small hotel there for 16 years and spent an increasing amount of time as a property developer in Brighton and Hove, rather than taking theatre roles away from his home and family.