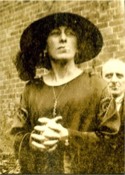 Birth
23 Aug 1906, Redruth, Cornwall, England
Death
1973, Eastbourne, Sussex, England
Spouses
Death
7 Jul 1960, Aldershot, Hampshire
Notes for Eleanor Joan Margarita WHARTON
Name, birth year and location, and death year and location from Jane Moyle.

In the July to September 1906 birth index Eleanor Joan M. Wharton, Redruth, Cornwall, volume 5c, page 190.

Midlands Electoral Registers 1930
74 Stanmore Road, Edgbaston
Frederick Malcolm Wharton
Julianna Hampton Wharton
Lionel Wharton
Eleanor Joan Margarita Wharton
Adeline Hind

In the October to December 1933 marriage index Eleanor J. M. Wharton and Nicholas Fitzmaurice, Birmingham, Warwickshire, volume 6d, page 330.

In the April to June 1973 death index Eleanor Joan M. Fitzmaurice, born August 23, 1906, died age 66, Eastbourne, Sussex, volume 5n, page 632.
Notes for Nicholas (Spouse 1)
Name and birth year from Jane Moyle

In the July to September 1960 death index Nicholas Fitzmaurice, age 72, Aldershot, Hampshire, volume 6b, page 12.

National Probate Calendar
Nicholas Fitzmaurice of Greycourt Dunmow Hill Fleet Hampshire died 7 July 1960 Probate London 9 September 1960 to Eleanor Joan Margarita Fitzmaurice widow and Edward Leo Golden solicitor. Effects 17199 pounds.