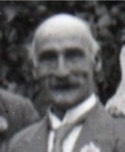 Birth
abt 1878, Fulham, Middlesex
Spouses

Birth
abt 1881, Paddington, London, England
Death
23 Jun 1933, Epsom, Surrey
Notes for Herbert Frederick BROWN
Parish Records St. Philip Kensington
Baptisms July 7 1878
Herbert Frederick Brown, Eleanor Fanny Brown and Francis Marshall Brown parents Frederick Marshall Brown and Fanny Gore Brown of 54 Richmond Road, West Brompton, father is a grocer, ceremony performed by W. Vennington, Vicar.

In the 1881 census 30 Beehive Road, Fulham, London.
Head Frederick M. Brown, age 39, grocer's assistant, born St. Albans, Hertfordshire. Wife Fanny G. Brown, age 42, born Ealing Middlesex.
Son George E. Brown, age 9, scholar, born Chelsea, Middlesex.
Son Francis M. Brown, age 6, scholar, born Chelsea.
Daughter Adeline Brown, age 5, scholar, born Fulham Middlesex.
Daughter Eleanor G. Brown, age 3 (twin), born Fulham.
Son Herbert F. Brown, age 3 (twin), born Fulham.

In the 1891 census 68 Uverdale Road, Chelsea, London.
Head Frederick M. Brown, age 49, grocer's assistant, employed, born St. Albans, Hertfordshire.
Son George E. Brown, single, age 19, clerk, employed, born Chelsea, London.
Son Herbert F. Brown, age 13, scholar, born Brompton, London.
Wife Fanny G. Brown, age 52, born Brentford, Middlesex.
Daughter Eleanor F. Brown, age 13, scholar, born Brompton.

Parish records St. Luke, Chelsea
Marriage November 12, 1899 Herbert Frederick Brown, age 21, bachelor, cellarman residence 6 Raaray? Street, father Frederick Marshall Brown, pianist, and Selina Hester Treadwell, age 16?, spinster, of 6 Raaray Street, father Thomas William Treadwell, watchman? after banns in the presence of Frederick Marshall Brown and Selina Hester Treadwell.

In the 1901 census 528 Kings' Road, Chelsea, London.
Head Herbert F. Brown, age 23, wine cellarman, Brompton, London.
Wife Selina H. Brown, age 20, general servant domestic, born Paddington, London.
Son George F. Brown, age 9 months, born Chelsea, London.

In the 1911 census 7 Lintaine Grove, Fulham, London S.W.
Head Herbert Frederick Brown, age 33, Motor Bus Driver L.G.O.C., worker, born West Brompton, London.
Wife Selina Hester Brown, age 30, married 11 years, 8 children born alive, 7 still living, born Paddington, London.
Son George Frederick Brown, age 10, school, born Chelsea, London.
Son Walter Herbert Brown, age 9, born Chelsea.
Son David Edward Brown, age 8, born West Kensington, London.
Daughter Lillian Maude Brown, age 6, born Shepherds Bush, London.
Daughter Edith Eleanor Brown, age 4, born Shepherds Bush, London.
Son Sidney Harold Brown, age 1, born Camberwell, London.
Daughter Dorothy Ada Brown, age 1 month, born Fulham, London. The home had 3 rooms.

British Army WWI Records
Attestation July 23, 1914
Army Service Corps
Herbert Frederick Brown Regimental Number 3258
Born Parish of Kensington, London, Middlesex
Trade Motor Driver
Age 36 years 185 days
Height 5 feet 6 1/2 inches
Brown hair, dark brown eyes
Church of England
Declared fit July 23, 1914 Army Service Corps Special reserve (Category C)
Next of Kin Wife Selina, 82 Southam Street, North Kensington
8 children Walter, David, Lilian, Edith, Sidney, George Dorothy and Frank
Marriage Selina Hester Treadwell, spinster, St. Lukes, Chelsea, November 12, 1899 by Rev. Henry Mitchell, Curate, witness Frederick Marshall Brown and Selina Hester Treadwell
He didn't report for mobilization, after inquiries to his last known address (9 Stewart Road, Kilburn), was reported AWOL of May 29, 1915

National Probate Calendar
Herbert Frederick Brown of 10 Westfield-road Sutton Surrey died 11 March 1940 Administration London 8 July 1940 to Edith Everett (wife of Jeremiah Everett) [must be Herbert's daughter] Effects 964 pounds
Notes for Selina Hester (Spouse 1)
In the 1891 census 9 Marian Street, Hackney, London.
Head Thomas William Treadwell, age 30, bus driver, employed born Westminster London.
Wife Selina Treadwell, age 30, born Regents Park, London.
Daughter Selina Esther Treadwell, age 10, scholar, born Paddington, London.
Daughter Rose Florence Treadwell, age 5, scholar, born Stepney, London.
Son Albert Edward Treadwell, age 4, scholar, born Stepney.
Son Louis Edgar Treadwell, age 2, born St. Pancras, London.

In the June 1933 death index Selina H. Brown, age 52, Epson, Surrey, volume 2a, page 83.

National Probate Calendar
Selina Hester Brown of 49 Clenshaw-lane Sutton Surrey (wife of Herbert Frederick Brown) died 23 June 1933 at Middle House Dorking-road Epson Surrey Administration London 4 January 1938 to the said Herbert Frederick Brown omnibus driver. Effects 785 pounds.