Spouses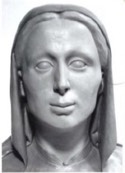 1
Agnes Of Antioch


, 26G Grandmother
Notes for Bela III King Of Hungary
One of the most eminent medieval monarchs of Hungary.
Buried in the Szekesfehervar Basilica. It was destroyed by fire in 1601. Both Bela III and Agnes of Antioch's remained were later moved to Matthias Church in Budapest.
His skeleton shows he was 6 for 3 inches tall.
Wikipedia:
http://kimsimmonds.net/ps11/ps11_341.htm
Notes for Agnes (Spouse 1)
First wife of Bella III.
Renamed Anna in Constantinople at the time of her marriage.