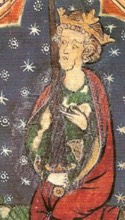 Birth
abt Sep 1068, Selby, Yorkshire, England
Death
1 Dec 1135, St Denis-le-Fermont, Near Gisors
Burial
Reading Abbey, Berkshire
Spouses
1
Matilda (Edith) Of Scotland

, 27G Grandmother
Birth
1079/80, Dunfermline
Death
1 May 1118, Westminster Palace, London, England
Burial
Westminster Abbey, London, England
Marriage
11 Nov 1100, Westminster Abbey, London, England
3
Nest Ferch Rhys

, 28G Grandmother
Notes for Henry I (Beauclerc) King Of England
Reigned 1100-1135. Duke of Normandy 1106-1135. His reign is notable for important legal and administrative reforms, and for the final resolution of the investiture controversy. Abroad, he waged several campaigns in order to consolidate and expand his continental possessions. Was so hated by his brothers that they vowed to disinherit him. In 1106 he captured Robert and held him til he died. He proved to be a hard but just ruler. He aparently died from over eating Lampreys!
Internet Sources
Wikipedia
http://en.wikipedia.org/wiki/Henry_I_of_England
Notes for Matilda (Edith) Of Scotland (Spouse 1)
Notes for Unknown (Spouse 2)
Unknown mistress of Henry I
Notes for Unknown (Spouse 4)
A member of the Gay or Gayt family of north Oxfordshire.